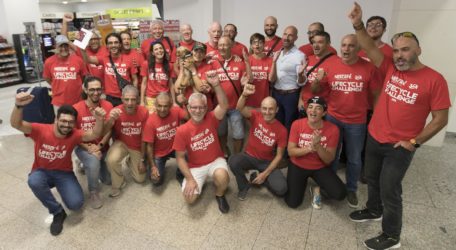 After 10 long days on bike saddles through Vietnam, Laos and Cambodia, the 24 cyclists from Nescafé 3in1 LifeCycle Challenge returned safely to Malta today. They were accompanied by seven back-up team members who assisted with all the logistics, medical aid, and food preparation.
LifeCycle Founder Alan Curry said: "Every year, we say that this is the toughest Challenge so far and – believe me – this is certainly, right up alongside the toughest challenges. The heat exhaustion coupled with dehydration and the humid conditions crippled most of our energy. The beautiful scenery along the route and knowing that we are doing this for a noble cause, were our rays of consolation and determination to complete these highly challenging 2,000 km.
It hasn't been easy. Finishing this tough Challenge was our happiest moment. We had nine cyclists withdrawing, but 15 pushed their limits beyond the possible to make it till the end. I would like to thank our title sponsor Nescafé 3in1, our other sponsors and contributors, our LifeCyclists and back-up team. So far €190K have been collected. We still need another €10K to reach our target so that after deducting all the expenses we will be left with €100K to go towards the Renal Unit's annual wish list. Our thoughts and our hearts go out to the patients suffering from renal disease and families," said Alan Curry.
Speaking on behalf of the title sponsor, Nestlé Marketing and Corporate Communications Alfred J. Borg said: "Well done LifeCyclists. You are an inspiration to us all. You represent the best values, using the power of sports to enhance the lives of persons living with kidney failure. Our most loved coffee brand in Malta, Nescafé, is proud to be associated with such a noble cause nurtured by LifeCycle Foundation."
Funds are collected from both companies and individuals. Nescafé 3in1 is the title sponsor of LifeCycle Challenge 2019. The challenge is also being supported by DataCore, Laferla Insurance, Nexia BT, Paddy Power Betfair Ltd, The Basement Bar, BPC International Ltd, Alfred Mizzi Foundation, Tri-mer and The Vodafone Malta Foundation, as Platinum sponsors, OzoGroup, PAVI-PAMA PG Group and GO plc as Gold sponsors, Smart Technologies, MGI Malta, Strek, MAPFRE MSV Life, MedServ, APS Bank, Ernst and Young Ltd and AQA Capitol as Silver sponsors. While among the Bronze sponsors there are: Logografix Signs Pace & Pace, Top Choice, MA & A, DSL, Eucerin, BridgePoint, Malta Properties, RS2, Maypole, Dino Fino, Gamesys employees, Carmelo Delia, Crane Currency Malta Ltd, Jesmond Mizzi Financial Advisors, Globex Freight Management Ltd, Omni Freight Services Ltd, KSI Malta, Medelec, Satariano, BNF Bank, MCE, AB Wholesale and Trades, 1st Cospicua Scouts Group, Gasan Mamo Insurance, Fexserv Financial Services, MFF Ltd., Hal-Tmiem Butcher, FINCO, Mercury plc, Hilltop Gardens Retirement Village, Complete Supplies Ltd., Red Box Advertising, Saracino's Cafe, Il-Bitha ta' Doni, Corinthia Palace Hotel Co. Ltd, and Nature Valley.
Donations for Nescafé 3in1 LifeCycle Challenge 2019 can be sent via sms: 5061 7370 = €2.33; 5061 8920 = €6.99; 5061 9229 = €11.65; or via a call to 5160 2020 = €10, 5170 2005 = €15; and 5180 2006 = €25. Bank details are Swift code VALLMTMT, IBAN number MT 18 VALL 22013000000014814521017, Bank name Bank of Valletta, Account number 14814521017.
Further updates and to donate towards LifeCycle Challenge 2019 visit: www.lifecyclefoundation.com or on Fb: https://www.facebook.com/LifeCycleChallenge/