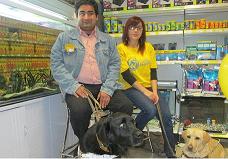 Pictured above: Malta Guide Dogs Foundation officials Leone Sciberras and Christine Mifsud 
On Sunday officials of the Malta Guide Dogs Foundation and other guide dog users attended the Pet Expo held at the PAVI Shopping Complex in Qormi.
Leone Sciberras, Christine Mifsud, Natalino Cristiano and Epifanio Vella, guide dog users, had the opportunity to speak to clients and explain how guide dogs should be treated, and the whole process for guide dogs to be matched with users, starting with the Puppy Walking phase when families bring up the puppies until they are a year old and sent abroad for training.
Mr Sciberras, MGDF Chairman, was interviewed by the in-house DJ and the guide dog owners had the opportunity to go all around the shopping complex, including a new 800 m2 section devoted to Christmas products.
PAVI Marketing Manager John Grima showed the MGDF officials around the complex, affirming: "Guide dogs are not pets. They are working dogs who accompany their owners even when they go shopping. They are part and parcel of a blind person and no one should stop them as they go about their work."
Mr Sciberras thanked the owners and management of PAVI for this opportunity to communicate directly with people through this Pet Expo, for which there were also dogs from the EFRU Canine Section and, within the Pet Corner, other pet owners were invited.