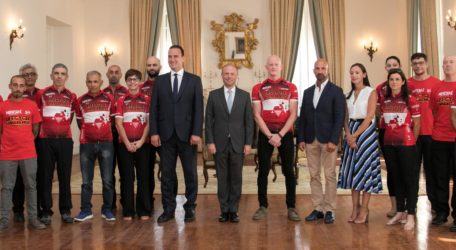 Prime Minister Dr Joseph Muscat welcomed a group of participating cyclists and their support team at Auberge de Castille prior to their departure for the Nescafé 3in1 LifeCycle Challenge. Also present during the courtesy visit was Parliamentary Secretary for Youth, Sport and Voluntary Organisations Dr Clifton Grima, Nestlé Marketing and Corporate Communications Manager Alfred J. Borg and Senior Coffee & Confectionery Category Manager Charlene Ellul.
The LifeCyclists were led by LifeCycle Founder Alan Curry and Chairperson Dr Shirley Cefai. While thanking the Prime Minister for making time to meet them, Dr Cefai said: "It is a very significant fact that the Prime Minister finds the time to show support on behalf of the population of Malta for the ongoing efforts of LifeCycle for the benefit of all renal patients in this country. Meantime, our preparations for the 21st edition of Nescafé 3in1 LifeCycle Challenge are well underway. Our vision is to raise the much-needed funds to continue to support and care for persons suffering from kidney failure and their families. LifeCycle supports almost 300 renal patients a year, some still at a young age, to ease their life changes. Apart from the tangible support, the fact that these patients today know that LifeCycle is trying to help them is of great moral boost to them."
LifeCycle (Malta) Foundation, the only NGO raising money to support renal patients, works hand in hand with the Renal Unit medical staff at Mater Dei Hospital and the University of Malta's kidney disease research team through the University's Research Trust (RIDT). In addition, LifeCycle Foundation generates awareness about Organ Transplants in Malta.
The Nescafé 3in1 LifeCycle Challenge 2019 will take the cyclists on an approximate 2,000 km route through Vietnam, Laos and Cambodia between 9th and 24th September 2019.
Nestlé Marketing and Corporate Communications Alfred J. Borg said: "We feel privileged to be associated with LifeCycle Foundation, an NGO that tirelessly endeavours to give so much to society. This principle is in line with Nestlé corporate commitment to support the communities we operate in."
The challenge is also being supported by DataCore, Laferla Insurance, Nexia BT, Paddy Power Betfair Ltd, The Basement Bar, BPC International Ltd, Alfred Mizzi Foundation and Tri-mer, as Platinum sponsors, OzoGroup, PAVI-PAMA PG Group and GO plc as Gold sponsors, Smart Technologies, MGI Malta, Strek, MAPFRE MSV Life and APS Bank as Silver sponsors. While among the Bronze sponsors there are: Logografix Signs Pace & Pace, Top Choice, MA & A, DSL, Eucerin, BridgePoint, Malta Properties, RS2, Maypole, Dino Fino, Gamesys employees, Carmelo Delia, Crane Currency Malta Ltd, Jesmond Mizzi Financial Advisors, Globex Freight Management Ltd, Omni Freight Services Ltd, KSI Malta, Medelec, Satariano, BNF Bank, MCE, AB Wholesale and Trades, 1st Cospicua Scouts Group, Gasan Mamo Insurance, Fexserv Financial Services, MFF Ltd., Hal-Tmiem Butcher and FINCO.
Donations for Nescafé 3in1 LifeCycle Challenge 2019 can be sent via sms: 5061 7370 = €2.33; 5061 8920 = €6.99; 5061 9229 = €11.65; or via a call to 5160 2020 = €10, 5170 2005 = €15; and 5180 2006 = €25. Bank details are Swift code VALLMTMT, IBAN number MT 18 VALL 22013000000014814521017, Bank name Bank of Valletta, Account number 14814521017.
For further updates and to donate towards LifeCycle Challenge 2019 on www.lifecyclefoundation.com or on Fb: https://www.facebook.com/LifeCycleChallenge/