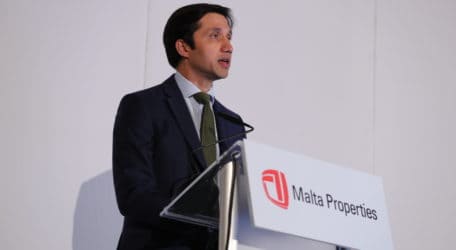 Malta Properties Company p.l.c.'s. (MPC) positive financial performance during 2017 was reviewed during the Company's third Annual General Meeting held this afternoon. During 2017, MPC's profit before tax increased by €2.68 million over 2016, to reach €6.13 million. Over the same period, MPC grew its net asset value by 13.57 percent to reach 40 cents per share.
Addressing the meeting, MPC Chief Executive Officer, Mr Nikhil P. Patil, said, "MPC performed strongly in its second full year of trading as an independent, publicly listed entity. This performance is the result of a clear strategy, which is based on three pillars. These first is to develop and build value in our core assets; the second is to sell non-core assets; whilst the third is to pursue the prospect of inorganic growth."
The meeting was also addressed by MPC's Chief Financial Officer, Ms Daniela Zammit, who gave a detailed review of the Company's financial performance, as well as a progress update on various key projects. In fact, MPC has almost completed the redevelopment of its site in Floriana, where it has now welcomed its  first tenant . Considerable progress has also been made at the site in Zejtun, where the site's key tenant GO, is expected to begin operating a state-of-the-art data centre by the end of 2019. Plans for the Company's sites in Marsa and Birkirkara are on track.
The meeting also provided an opportunity for MPC's senior management to update shareholders on the negotiations, which MPC has entered into, regarding the possibility of acquiring Dubai Holding's majority shareholding in SmartCity (Malta). While stressing that MPC is still evaluating this opportunity, and is awaiting the conclusion of due diligence reports, Mr Patil, described the potential acquisition as one which, "could potentially make MPC one of the largest listed property companies in Malta", while at the same time, contributing to the regeneration required in the south of Malta.