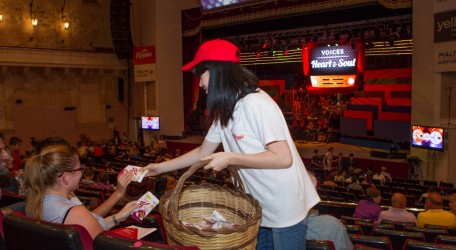 K
More than 6,500 Kellogg's Special K Granola portion packs were distributed by smiling hostesses prior to the shows of Voices Heart and Soul held at the Mediterranean Conference Centre. This is part of Kellogg's ongoing campaign to increase awareness about the importance of a healthy breakfast and nutritious snacks.
The new Kellogg's Special K Granola is a low fat cereal with a delicious five grain recipe and two juicy fruit varieties, raisins and red apples that provide an excellent start of the day or a snack option.
Voices is a staple charity event in the Maltese cultural calendar which sees spectacular vocal interpretations of renowned names in the local music industry as well as others less known. From classical to pop and rock tunes, Voices is a non-profit organisation that aims to raise money for charitable and worthy causes. Voices has contributed over one million Euros in the past to various local and international charities such as the Hospice Movement, Eden Foundation, Caritas, YMCA, Dar tal-Providenza, UNICEF and Amnesty International amongst many others.
More information about Voices can be accessed by visiting http://voices.org.mt/