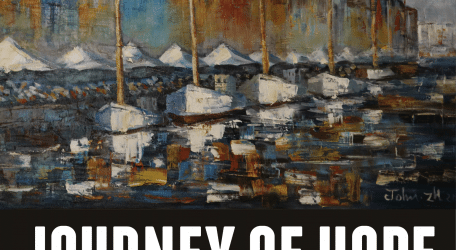 "I would like to encourage all those who have been forced to flee from their homes to stay strong and faithful on their journey of hope and freedom. Having fled from persecution, it was not easy for me to regain hope in a new land, especially after decades during which my pursuit of art and freedom had been violently suppressed. But forgetting what is behind and straining toward what is ahead, I was determined to rebuild my life in Malta by picking up the paintbrush that was once dropped forcibly."
These are the words of John W. Zhang, artist and refugee. They are words that are very much in line with what we, at JRS, have discovered over the years: refugees hope for safety, protection, freedom and peace of mind. But like everyone else, they also hope for much more than that. Refugees need to feel that they have a future, whilst making peace with the wounds of their past. They dream of living in a community where they truly belong and not one in which they are considered to be permanent guests. Their journey of hope leads them in the direction of a life which is truly worth living because lived to the full.
June is an important month for all those who defend the right of refugees to live in safety and dignity. June 20 is the day chosen by the United Nations to commemorate the strength, courage and resilience of millions of refugees who, in order to escape conflict and persecution, leave everything behind to embark on a journey of hope for a better and safer future.
To mark World Refugee Day, on the 4th of June, from 20:00 onwards, the Jesuit Refugee Service, in collaboration with the Jean de la Valette Foundation, will be hosting Journey of Hope, a fundraising art exhibition at The Palace Hotel in Sliema. Artworks are being provided by established artist John W. Zhang, a refugee who was forced to flee his home country due to religious and political persecution.
All those interested in attending the event or in viewing the artworks prior to the event, please get in touch with Ms Kyoko Zhang at [email protected] or call 2144 2751. Hard copies of the exhibition catalogues are available on request.
The Jesuit Refugee Service is a non-governmental organization founded in 1980 by Fr. Pedro Arrupe sj in order to accompany, serve and defend refugees. It has since grown into an international organisation that serves over a million of refugees and forcibly displaced persons in camps, urban areas, war zones and detention centres around the world. JRS began its work in Malta in 1993. Over the years, JRS Malta expanded its services to provide legal and social services to asylum seekers and refugees in detention and local communities. JRS Malta is currently running several projects with a focus on integration and hospitality.
The Jean de la Valette Foundation for Art and Culture has become an important platform in recent years for cultural and artistic exchange between Malta and foreign countries. The Foundation creates a structure where artists and the general public would meet and aims to raise public awareness of art and cultural diversity.