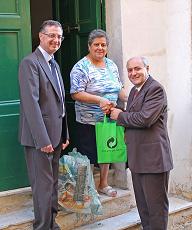 Pictured above: A resident receiving a gift pack from GreenPak Coop Society CEO Ing Mario Schembri and Parliamentary Secretary for Culture and Local Government Dr José Herrera  
Residents who actively participate in the recycling bag door-to-door system or by disposing their separated waste in GreenPak's Bring-In sites, may receive an early Christmas present!
In the coming days, representatives from GreenPak shall be visiting residents who are doing their part in the recycling system, and will be giving out reusable cloth bags filled with free gifts ranging from food, beauty products, toiletries, stationeries and various other products!
These products have been donated by P. Cutajar Co. Ltd., Brincs Biscuits Ltd., Malta Dairy Products, Pemix ltd, AA Foods Ltd., De La Tour Enterprises Ltd., Von Brockdorff Imports Ltd, Rimus Riley Ltd., Beautimport Ltd, Floreal Group Co. Ltd, Marks & Spencer, McDonalds, Smubs 2002 Ltd, Amazon Ltd., Melita Food Co. Ltd, Tal-Qroqq Confectionery, Playmobil Malta Ltd, Red October Co. Ltd., Kemimports Ltd., Rokky Products, S. Rausi Trading, Spencemed, Variety Foods, Visco Enterprises, M. Demajo Wines & Spirits, Miller Distributors, Avantech and Abela Enterprises Ltd. This action, adeptly named, the 3R Bag campaign (3R meaning Reuse – Reduce – Recycle) will be carried out on a national scale in the localities serviced by GreenPak.
This initiative was launched in Valletta in the presence of Parliamentary Secretary for Culture and Local Government, Dr José Herrera, who welcomed this initiative by GreenPak and presented the 3R free gift bags to unwary residents in Valletta.
Dr Herrera said: "Initiatives like this one help the public understand the need of recycling and the importance of reducing the amount of waste packaging in Malta. Once the product has served its original purpose, it is critical that the waste generated is properly recycled as it might end up taking up space in a landfill,"
"This nationwide campaign highlights the importance of public participation in recycling and signals our commitment to reward those residents who recycle regularly," said Ing. Mario Schembri, GreenPak Coop Society CEO, who recycle millions of kilograms of packaging waste annually.
Commenting on the feedback received from residents during the pilot project phase, GreenPak's Waste Educational Officer Kurt Scerri said, "Localities adopting the GreenPak scheme have experienced a marked increase in public participation – some of them even doubling the amount of recycling. Giving out the 3R Bag is a way of saying 'thank you' to these greener communities that are already making a difference."