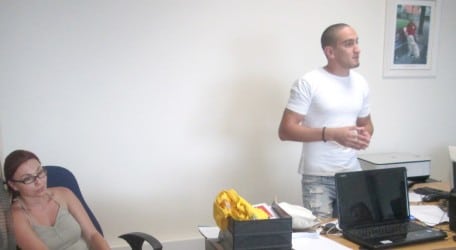 The Malta Guide Dogs Foundation (MGDF) held an information session for the two nice families, that have accepted to form part of its Puppy Raising Programme, at the Centru San Franġisk, Ta' Qali. Volunteer puppy raisers aim to provide specially bred puppies with a safe home, undertake to bring them to obedience classes, serve up a healthy diet, give them socialisation opportunities – apart from lots of love.
MGDF Chairman Leone Sciberras thanked the two new Puppy Raiser families for their commitment ahead of the arrival of the new puppies on 31 August, 2014. He stressed how important their role is to enable blind people to aspire to have a guide dog. "Puppy Raisers play a major contribution to the growth and development of future service dogs," Mr Sciberras said.
"We have to make people aware that, by raising a puppy, they can change the life of a blind person considerably. Without a steady flow of puppies, brought up locally, the Helen Keller school in Messina will not have guide dogs to provide us here in Malta, so thank-you for your commitment and dedication. Thanks are also due to the Sovereign Military Order of Malta (SMOM) for covering their transport costs and Borg Cardona & Co. Ltd, who will be sponsoring their food as puppies."
Christine Mifsud, a guide dog owner for three and a half years, shared her experience. A highly active woman and mother of two daughters, she spoke about how her life changed when she became visually impaired following the birth of her twins 15 years ago, and how Winnie, her guide dog, has been helping her in her daily life since she arrived.
Joe Muscat then spoke of his experience as a Puppy Raiser last year. He pointed out that puppies raised to become guide dogs are not like other companion pets and have to behave well socially, be friendly and responsive to their future handler. He also insisted that puppies must be, above all, obedient, calm and resist such temptations as jumping and running after cats and pigeons.
The new Puppy Raisers were finally briefed by Luca Taliana on the local Puppy Raising Programme, including the dos and don'ts of puppy raising, before there was a lively question and answer session.