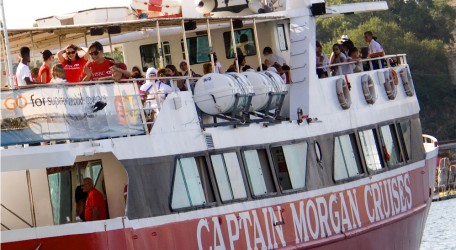 Around 200 children from various children's homes  and NGOs in Malta enjoyed a day of activity out at sea, jointly organised by the HSBC Malta Foundation and Captain Morgan Cruises.
Departing from Sliema ferries, the boat ride included a day full of activity, a stop for lunch at Comino, and time to enjoy some of Malta's most desirable swimming areas.
"It is heart warming to see these children – many of whom are facing serious life challenges – relaxing, playing together and enjoying the simple pleasures of a day out at sea," said Josef Camilleri, Head of Sustainability at HSBC Malta. "The HSBC Malta Foundation organises such activities and events as part of its ongoing support for disadvantaged children in Malta."
"Apart from being a most relaxing way to enjoy the day, our cruises offer passengers fresh perspectives and new sights of Malta's coastline, ports, and beaches. It is our pleasure to organise this charitable cause and offer our services for the benefit of these children," said Kevin Zammit Briffa, General Manager from Captain Morgan Cruises.
Over the last decade, the HSBC Malta Foundation donated more than €3 million towards its three central objectives: to improve the quality of life and education for disadvantaged children, to promote and work towards a more sustainable environment, and to preserve Malta's rich cultural heritage.