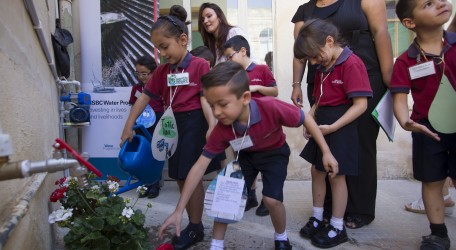 With the help of the HSBC Water Programme – Catch the Drop campaign, the Primary School A at St Margaret's College in Żabbar installed a complete plumbing and water tank system to utilise secondary water from the underlying reservoir for cleaning and flushing.
The Headmaster Mr Alfred Debattista announced this community outreach programme during a school presentation for Year 1 and Year 2 pupils in the presence of a representative from the Ministry for Energy and Health Mr Rennie Mercieca, Żabbar Mayor Mr Quinton Scerri, Manager – HSBC Water Programme Coordinator Mr Glenn Bugeja and HSBC staff volunteers Ms Antonia Farrugia and Mr Jason Farrugia, who assisted the EkoSkola committee on voluntary basis in the school's Catch the Drop project.
Following an address by National EkoSkola Co-ordinatorProfessor Paul Pace, the young EkoSkola committee members were presented with a certificate for their contribution by EkoSkola teacher Mr Johann Gatt. The Eko Skola student committee president Emily Jones delivered a presentation on the Catch the Drop and EkoSkola activities carried out throughout the scholastic year.
"Over 500 pupils attend the Żabbar Primary A and it is considered as one of the largest Primary schools in Malta," said Mrs Anna Napier, Assistant Headmistress. "Until now, the water stored in the underlying reservoir was not utilised. Thanks to the HSBC Water Programme – Catch the Drop Campaign, the school upgraded its infrastructure and now benefits from lower utility bills."
The Headmaster and Assistant Heads Mrs Napier, Ms Jones and Ms Muscat thanked the teachers, LSAs and staff, particularly Ms Abigail Piscopo and Ms Romina Coreschi as the teachers in charge of EkoSkola, music teacher Mr Paul Portelli and art teacher Mr Christian Scerri.
During the morning activity, the pupils recited the song "Nibżgħu Għalih" sang by Ms Catherine Portelli highlighting the importance of saving water, composed by Ms Iona Ghiller, one of the kindergarten assistants. The pupils presented their drawing entries for the Catch the Drop Drawing Competition which will be displayed during Malta's Summer Fair at Montekristo Estate in July 2014.
"An educational water conservation programme, the Catch the Drop campaign raises awareness about water," said Mr Bugeja. "A number of schools are making better use of this precious resource. Apart from the financial backing by the HSBC Water Programme, a number of HSBC employees are voluntarily assisting eco-schools committees in their school and community outreach programmes."
Various water projects are being organised throughout a strategic 3-year campaign funded by HSBC Group and supported by Ministry for Energy and Health. The programme also encourages positive change towards the use of sustainable fresh water use in Malta.