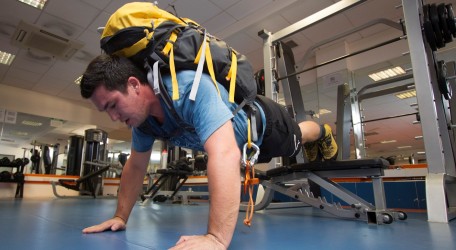 In an attempt to further inspire and challenge himself, Samuel Scicluna from St.Julians will be climbing Monte Rosa in Pennine Alps and Mont Blanc in the Graian Alps.
Samuel, who works as Team Manager at HSBC UK Contact Centre Malta, will be undertaking the gruelling journey thanks to his thriving workplace environment which features, among other facilities, a free full-fledged gym for all staff.
"The gym at work has been vital for this mountaineering trip and has enabled me to continue training in summer months, when it would have been too hot to go out trekking and running," said Scicluna, who flew to Milan, to join a team of other mountain climbing enthusiasts heading towards Valle D'Aosta to take the Staffal lift up to the Gnifetti Refuge at 3,600m ahead of the feat.
After spending two days at the Refuge learning basic mountaineering skills and gaining high-altitude training, Samuel and team will spend a night at the Margherita Hut; the highest refuge in Europe at 4,554m in an attempt to acclimatise their bodies, before climbing back down to Valle D'Aosta. The team will then drive to Courmayer and take the lift up to Punta Helbronner, where they will be staying at the Torino Hut at altitude of 3,375m and subsequently cross the Valle Blance to the Cosmiques Hut at 3,613m. Here, the team – led by expedition leader and guide Dr Gregory Attard – will stay put for three days so as to utilise their weather window to summit Mont Blanc.
The team is aiming to summit in time to watch the sunrise from the "Roof of Europe" at an altitude of 4,810m.
Back in Malta, and Samuel's colleagues will be waiting in anticipation to hear the about the ascent, and to see Samuel's panoramic photo – nature photography is Samuel's second hobby.
Employing more than 400 staff members trained to assist UK account-holding customers, the Contact Centre is well known in Malta for its positive, informal, and highly sociable atmosphere thanks to emphasis on work-life balance.
The in-house gym one of the few in Malta provides staff the opportunity to keep fit through daily exercise under the guidance of an expert gym instructor. Employees practising different sports are able to use the airconditioned gym to further supplement their personal daily training schedules during their lunch breaks, or before or after their offices hours.
The Centre further provides a range of unique support services to all of its employees. These include a concierge service, childcare subsidies, on-site medical health checks, discounted rates on home loans, life insurance and private healthcare, a shift swamping facility for flexible work hours.
Owing to continued expansion, the Centre is inviting all prospective applicants to become part of its workforce. Apart from having a good command of English and IT skills, there are no specific qualifications for the role as the Swatar-based Centre provides a full induction training programme over a three-month period for all successful candidates, during which time all participants will receive full pay.
More information about opportunities at HSBC UK Contact Centre can be had at www.hsbc.com.mt/careers. An age neutral CV can be forwarded to [email protected] by 31st August 2014.