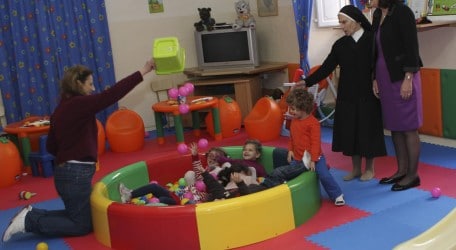 Pictured above:  (from left) Carer Doris Baldacchino, Sister Margarita Busuttil (DSH), and Sarah Watkinson 
St Joseph Day Care Centre has been fitted with wall-to-wall play mats in line with the HSBC Malta Foundation's mission to offer children better quality of life and education.
The Centre is open throughout the week to provide children below 3 years of age valuable social learning experiences with dedicated attention from qualified child carers. Fourteen children are currently benefitting from the Centre's services.
"The dedicated assistance offered by the Center is invaluable for the development of children during their first years," said HSBC Malta Foundation Deputy Chairperson Sarah Watkinson. "The children clearly enjoy their time here very much, while having colourful mats covering the entire floor helps make the play area all the more fun and safe for them."
St Joseph Day Care Centre also works with parents to organise fun outings for the children, such as a trip to Ta' Qali petting farm, a day at Popeye Village, and a visit to San Anton's kitchen garden.
The HSBC Malta Foundation manages a wide range of corporate sustainability programmes with a focus on three key areas: improving the quality of life for children, achieving a more sustainable environment, and preserving Malta's rich heritage.