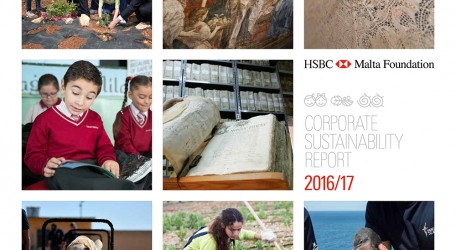 HSBC Malta Foundation has released its first Social Corporate Responsibility (CSR) report, showcasing its 2016/17 efforts, goals and performance in sustainability, corporate citizenship, and staff volunteerism.
The inaugural report provides a comprehensive review of the impact the bank makes in its mission areas of education, environment, and Maltese heritage. It also presents the sterling work done by its employees in the community.
"HSBC Malta's history on these islands dates back to over 150 years and we have always been part of the local community. Sustainability means building our business for the long term by balancing social, environmental and economic considerations in the decisions we make. This enables us to help businesses thrive, and contributes to the health and growth of communities," said HSBC Malta CEO Andrew Beane.
Highlights of the report include:
Successful conclusion of the €400,000 conservation work at Our Lady of Victory Church
Partnership with Prince's Trust International with a support of €300,000 to introduce youth advancement programmes
Updates from the €540,000 HSBC Water Programme – Catch the Drop conservation campaign
Initiatives run by the bank's staff members, such as CSR Day, walkathons, Pink October, Movember, and sales of prinjolata to raise funds for charity also form part of the report. It is to be noted that HSBC offers its employees an annual fully-paid Volunteer Leave Day.
In line with HSBC's sustainability guidelines, the 2016/17 Corporate Social Responsibility Report is available online only at   http://www.about.hsbc.com.mt/hsbc-in-malta/community