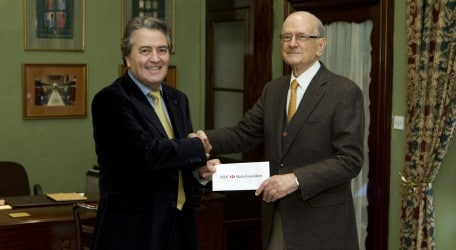 Pictured above: HSBC Malta Director Dr Philip Farrugia Randon presenting the Bank's sponsorship to Fondazzjoni Patrimonju Malti Chairman Maurice de Giorgio 
HSBC Malta Foundation has extended its support agreement for Fondazzjoni Patrimonju Malti, as part of the Bank's corporate sustainability drive to bring lasting benefits to the Maltese community.
 "The Fondazzjoni Patrimonju Malti, under Maurice de Giorgio's leadership, plays a vital role in safeguarding and promoting many diverse aspects of Malta's rich cultural heritage. With its sterling reputation for quality cultural events, activities and publications, Patrimonju Malti is a strong proponent of promoting Malta's heritage. Its activities are very well patronised and eagerly sought after, often allowing the public to benefit from aspects of Malta's heritage that would otherwise have remained confined to private collections," said HSBC Malta Director Dr Philip Farrugia Randon.
Fondazzjoni Patrimonju Malti is a non-profit foundation dedicated to spreading awareness about Malta's heritage, locally and internationally, through museums, exhibitions and publications. Exhibitions organised by Patrimonju have showcased popular and lesser-known aspects of Maltese art, including Maltese wall clocks (l-Arloġġ tal-Lira), silver and antique jewelry in Malta, antique furniture, costumes, and prehistoric art.
Fondazzjoni Patrimonju Malti publishes a range of prestigious publications, including catalogues to accompany each of its exhibitions. These works contribute towards a highly referenced and ever-growing body of work about Maltese art.
More information about HSBC Malta Foundation's Corporate Sustainability drive is available on the Bank's website at www.hsbc.com.mt