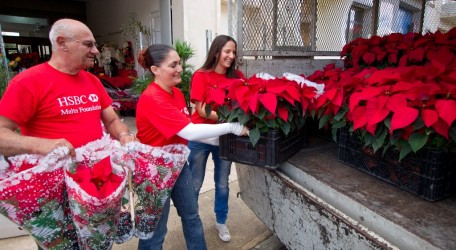 Pictured above: HSBC Malta's Domenic Celeste, Charmaine Cutajar, and Samantha Hollyoak
A voluntary initiative through which poinsettas are sold for charity has achieved record sales this festive season, with over 2,000 poinsettas sold and delivered to supporting HSBC employees, relatives, friends and other companies.
Spearheaded by HSBC employee Samantha Hollyoak with support of the HSBC Malta Contact Centre in Qormi and the HSBC Malta Foundation, this initiative has in the past generated funds to a variety of philanthropic institutions including S.T.A.R.S, Inspire, the Rainbow Ward, and three homes that provide care for children in need. This year all proceeds are to be presented to l-Istrina. Over the past five years, close to 7,000 poinsettas have been sold.
"Charitable work has always been very close to my heart and this initiative gave me the opportunity to reach out others. Voluntarism gives me a lot of satisfaction in the knowledge that we can all make a difference and help those who are in need," said Samantha.
HSBC Malta actively encourages its employees to volunteer for the initiatives they are most passionate about.
"This initiative has been supported by my colleagues at HSBC. The majority of orders come from them and they also promote this idea among their families and friends outside HSBC. Thanks also go out to those other companies that have lent their support and bought poinsettas for their offices," she said.
Caring for disadvantaged children, the environment and heritage
Note to the Editor:
The HSBC Malta Foundation is committed to investing in the local community and looks to bring about lasting benefit in society.  The Foundation makes this happen by raising funds and supporting programmes that make a difference to disadvantaged children, the environment and heritage.  The Foundation works closely with a number of highly respected local businesses and not for profit organisations.  The Foundation aims to make long term social investments and form partnerships rather than simply making donations.  The Foundation takes pride in HSBC staff who contribute to the charities and causes that they feel passionate about, and HSBC encourages them to take an active role in initiatives supported by the HSBC Malta Foundation.  The HSBC Malta Foundation works with the wider HSBC Group and makes the most of the resources and capabilities of a global bank for the benefit of the local Maltese community.