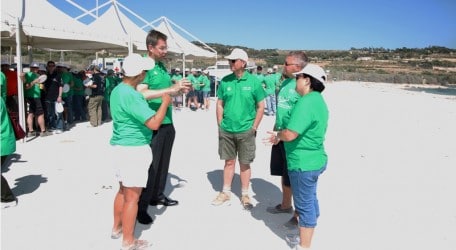 Pictured above: Beach cleaned, a job well done. HSBC Malta CEO Mark Watkinson congratulating HSBC employees who volunteered for this initiative
The HSBC Malta Foundation carried out a variety of in-branch and outdoor environmental activities yesterday in support of this year's United Nations World Environment Day, celebrated on 5 June. This included clean-ups of 'il-Ballut' area in Marsaxlokk and Marsalforn Valley in Gozo.
Around 200 HSBC Malta employees, with a special contribution from the Retail Banking & Wealth Management (RBWM) department, cleaned up the Natura 2000 site known as 'il-Ballut', in Marsaxlokk, and the surrounding beach areas, in an exercise managed by the Ministry for Resources and Rural Affairs (MRRA) and HSBC's Malta Foundation.
"This natural site includes a saline wetland habitat of special ecological importance. It is home to a variety of rare species and must be kept clean and free of litter so as to safeguard the biodiversity of this natural habitat," noted the Hon Minister for Resources and Rural Affairs George Pullicino. "It is very positive to see HSBC maintaining such an active role in the care and conservation of our natural heritage." Minister Pullicino also thanked the labourers of the Cleansing Services Directorate within his Ministry for their efforts in keeping Malta tidy.
In Gozo, HSBC Malta's staff teamed up with the Directorate of Tourism and the Eco-Gozo Unit to clean-up Marsalforn Valley in Gozo. This activity received support from Gozo Ministry officials while informative nature walk sessions were provided by an official from Nature Trust (Malta).
On this symbolic day, HSBC's Network Team promoted environmental sustainability from within HSBC's branches. Members of staff wearing World Environment Day polo-shirts offered interested customers practical information and tips about environment friendly ways of saving energy through various means, including alternative energy initiatives endorsed by the MRRA, guidelines for better usage of domestic wells, and other practical energy saving advice.
"HSBC's investment in the community is an integral part of our identity, said HSBC Malta CEO Mark Watkinson. "Our active role in World Environment Day, coordinated by the HSBC Malta Foundation, forms part of HSBC Malta's ongoing commitment to connect with the community and create positive changes where is it most needed."
More information about the bank's Corporate Sustainability activities is available on the
'HSBC in the Community' section of their website at www.hsbc.com.mt
.