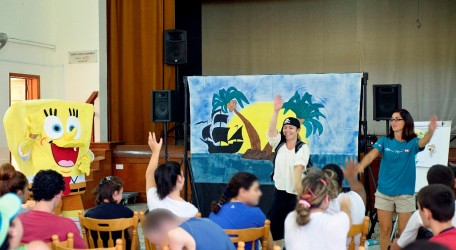 –         Campaign to reach out to 50,000 students by 2016 –
HSBC Bank Malta continues to inspire thousands of school children across the Maltese islands through education initiatives and sharing information about water conservation as part of its HSBC Water Programme 'Catch the Drop' awareness initiative.
During the academic year of 2013-2014, staff volunteers for the HSBC Water Programme conducted 305 presentations for 19,438 students – nearly half of the total number the programme aims to reach by 2016.
The HSBC volunteers are one of the driving forces behind the success of the programme. Between them, the volunteers aim to visit each of the schools in Malta and Gozo to give presentations about the importance of water conservation in the country.
For the second consecutive year, HSBC Bank Malta has also worked with the government's summer school programme, Skola Sajf 2014, which encompasses educational and fun activities for children aged from three to sixteen years old.  HSBC volunteers helped to organise activities in 63 Skola Sajf centres in Malta and Gozo. These included talks by Dr Alan Deidun, University of Malta's Senior Lecturer at the Physical Oceanography Unit, water cycle workshops, theatre shows, and visits to Pembroke Reverse Osmosis Plant. School students in Gozo visited the Dwejra Interpretation Centre.
Glenn Bugeja, HSBC Water Programme coordinator says:  "The HSBC Malta Water Programme is aimed at achieving two vital objectives: raising awareness about water conservation among students across Malta, and involving students in water projects to encourage their development as pro-active ambassadors for water conservation and environmental sustainability."
"It is important to note that 25% of our HSBC Malta team, close to 350 employees, have personally helped to spread the message about water conservation through a series of presentations for schools. Our employees have also been eager to support Skola Sajf 2014 by organising water-related games and puzzles to engage and educate young minds."
HSBC team members also arranged for students to visit the Pembroke Reverse Osmosis Plant, the BirdPark and hotels to learn about their different water-saving measures.