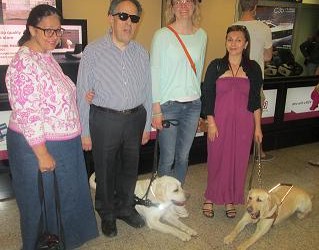 Pictured above: Christine Mifsud, Deputy Chairman of the Malta Guide Dogs Foundation (on right), greeting the newly arrived guide dog, Anton, with guide dog and  mobility Instructor, Emmelie Reinson (centre), and Patricia and Charles Borg, the new Maltese guide dog handler
A guide dog, acquired by the Malta Guide Dogs Foundation (MGDF), arrived today, accompanied by a mobility and guide dog instructor, Emmelie Reinson, who will be handing him over to his new owner, Charles Borg, in the coming days.
Anton, a light champaign Golden Retriever, arrived on the morning flight from Stockholm, where he was being trained over the past few months.
Christine Mifsud, Deputy Chairman of the MGDF, was present at MaltaInternationalAirport to greet Anton, accompanied by the new owner and his wife Patricia. Charles, who works at the National Commission Persons with Disability (KNPD), will now undergo a process of bonding and further training to be able to take ownership of the dog.
"I am really excited for Charles, who is an experienced guide dog handler, and knows what it is like to have the independence and ability to be able to go where he pleases more efficiently, thanks to Anton," Ms Mifsud said. "Thanks also to Anton, Charles will be an attraction wherever he goes."
This is the third guide dog to be brought to Malta this year, following the two that arrived from Bratislava in January. The MGDF also sources dogs for members of the local community in Malta and Gozo who apply for a guide dog from the Helen Keller Regional Centre Guide Dog School of the Italian Blind Union in nearby Messina, Sicily.
"I appeal for co-operation from the public when they see a guide dog on duty," Ms Mifsud said. "These service dogs should be given space and they should not be petted.
"I take the opportunity to thank Emmelie Reinson from Stockholm Guide Dogs for her sterling work and the various sponsors of the MGDF, most notably the Sovereign Military Order of Malta (SMOM)."