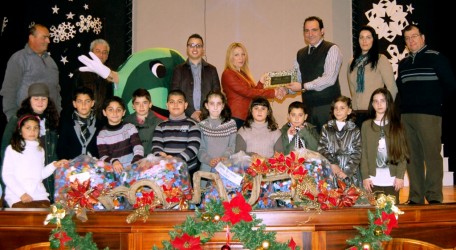 Pictured above: (third from left) GreenPak Education Officer Mr Kurt Scerri and GreenPak Senior Manager Ms Denise Brincat presenting the first prize plaque to Mr Deo Grech, Headmaster at Ħal Għaxaq Primary School, flanked by (from left) Ħal Għaxaq Mayor Mr Emmanuel Zammit, School Council President Mr Gwido Zammit, and Assistant Heads Ms Elizia Vassallo and Mr Saviour Sammut
A staggering 2.7 million plastic caps amounting to 8.4 tonnes of recyclable plastic was gathered in less than two months by hundreds of school children. Their enthusiasm remains unabated to help the less fortunate as once again they eagerly participated in this year's edition of Irriċkla għall-Istrina organised by GreenPak. This effort led to the donation of a €7,000 cheque that was presented by members of the GreenPak Coop Society to the President of Malta, Dr. George Abela, during l-Istrina 2012.
Launched by GreenPak last November, the campaign saw the participation of 56 primary schools across Malta and Gozo. GreenPak's educators, along with GreenPak's mascot, Green Gary, visited schools to supply recycling bags and explain the benefits of Irriċkla għall-Istrina initiative. Collectively, the students managed to deposit over 2.7 million plastic caps that were collected and recycled by GreenPak.
The St Benedict College Primary School in Ħal Għaxaq claimed the honour of being the highest contributor, with an average of 2,000 plastic caps per student. The St Benedict Primary School in Gudja came close with an average of 1,842 plastic caps per student.
"The positive response by the primary school children is an encouraging sign showing that our young generation is sensitive to both social and environmental issues. GreenPak's Irriċkla għall-Istrina campaign is becoming a popular charitable activity which students eagerly look forward to before they break for the festive holidays," said GreenPak Senior Manager Denise Brincat.
For more information regarding GreenPak, including its waste collection scheme, bring-in-sites and other information one can visit the Greenpak website www.greenpak.com.mt or contact them on tel: 2166 1081 or email [email protected]
Ends