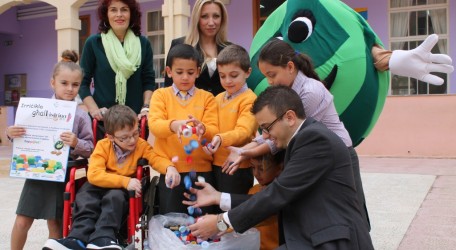 GreenPak Coop Society launched its 3rd edition of the Irriċkla għall-Istrina initiative which aims at collecting funds for the upcoming l-Istrina 2013 through gathering and recycling of plastic bottle caps. The campaign was launched at the SliemaPrimary School. For this edition, GreenPak has further extended its scheme to 88 schools enabling households to actively contribute in this charitable cause.
Primary school students are being encouraged to help local charities by collecting and depositing plastic bottle caps in recycling bags at their respective schools. Primary schools in Malta and Gozo have been supplied with GreenPak's recycling bags.
"In merging two socially beneficial activities, Irriċkla għall-Istrina aims to instil among the young generation the importance of contributing to a charitable cause and, in turn, helping to create a more caring and environmentally friendly future," said Denise Brincat, GreenPak Senior Manager. "The more plastic bottle caps students collect in schools, the bigger will be their school's donation towards l-Istrina."
GreenPak's educators, along with GreenPak's mascot, Green Gary, explained to the attentive students the scope and benefits of Irriċkla għall-Istrina initiative. The students are being encouraged to appreciate the importance of recycling, and at the same time help raise funds for l-Istrina.
The combined effort from the participating schools during last year's l-Istrina 2012 event culminated with the presentation of €7,000 by student representatives to the President of Malta, Dr George Abela. A total of 2.8 million plastic caps were collected and recycled by 56 schools and organisations.
As one of Malta's major charity events, l-Istrina is organised by the Malta Community Chest Fund and involves the airing of a 12-hour TV marathon on 26 December 2013.
For more information regarding Irriċkla għall-Istrina and a list of all the schools that are registered with GreenPak in this initiative, kindly contact GreenPak Coop Society on tel: 2166 0233, via email: [email protected], or by visiting www.greenpak.com.mt.