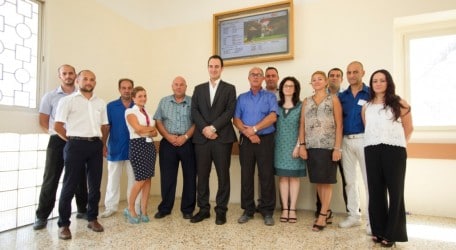 Spurred on by enthusiasm of the GO Cares team, GO employees joined up to undertake voluntary work at Mount Carmel Hospital. Dedicating time and personal effort, they helped renovate the living, dining and visitors' rooms of the Male Rehabilitation Ward, and helped out with cleaning the green areas of the visitors parking and entrance round-about .
Josephine Grima, Senior Manager  HR Operations at GO, said: "Following a number of informative and interactive sessions on mental health and mental well-being to our employees, by one of Mount Carmel's senior psychologists, the GO Cares committee took the initiative of coordinating with Ms. Mary Rose Meli, Public Relations Officer at Mount Carmel, voluntary work at the hospital. We believe in the importance of promoting awareness on the support services available at Mount Carmel and in the importance of contributing towards creating a positive environment to facilitate the rehabilitation of those who require these services."
In addition to performing gardening, sanding and painting work, employees also contributed €1,000 through the employee GO Cares donation fund. The money, which was then doubled by GO, was used to provide sanding and painting materials, as well as suitable tables and chairs for the dining room of the Male Rehabilitation ward . The living room's old television set was also replaced with a flat screen 47" television, coupled with a subscription for GO Sports, to improve patients' overall comfort while staying at the rehabilitation centre.
Dr Clifton Grima, Chief Operations Officer of Mount Carmel Hospital, thanked GO for taking the initiative to raise awareness amongst their employees about the importance of taking care of their Mental Health both at home and at the workplace for their optimum wellbeing. Dr Grima congratulated and thanked the GO employees that were involved in this activity for dedicating some of their free time to carry out work to improve the environment of patients. He hopes that GO has set the example for other companies to follow suit.
"The project was well supported by employees who freely gave their time and money to provide better living conditions, which patients deserve. Our efforts helped to improve the working environment for all the doctors, nurses and support staff who do such a great job at the hospital and in delivering community services," concluded Josephine Grima.