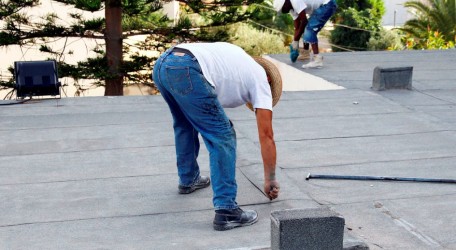 The Ghabex Residence in Santa Venera, which provides a safe environment to women and children who suffer domestic violence, and to victims of human trafficking, is having its roof repaired and outside walls refurbished with funds raised by GO employees.
Josephine Grima, Senior Manager, Human Resources, at GO, said, "The Ghabex Residence, operated by Agenzija Appogg, offers a safe shelter to victims of violence,  together with professional support for a better future. Despite the invaluable service, the residence is in dire need of repair and maintenance works. We felt that the best place to start during the summer months was by making sure that the roof and outer walls were refurbished and back in shape ready to brave the long winter ahead."
The funds to cover the structural works, which also included the removal and replacement of the existing damaged membrane, were raised by GO employees during a Figolli sale during Easter time. Funds raised from the sale of figolli were topped up through the employees donations fund which GO employees contribute on an on-going basis.  As part of the company's GO Cares initiatives, employees are encouraged to make regular donations which are then utilized to support similar good causes.
The Għabex Emergency Shelter was set up in October 2000. Its operations are based on the belief that women and children have a right to protection from violence and abuse and that any woman, regardless of socio-economic background, status and age may be subjected to abuse. The shelter offers a setting conducive to self-healing for women and their children who suffer emotional, physical, sexual, and any other form of domestic violence.
"GO employees are always at the fore front to support worthy causes and once again they have contributed to lend a hand to those who are in need by providing a safer living environment," concluded Ms Grima.