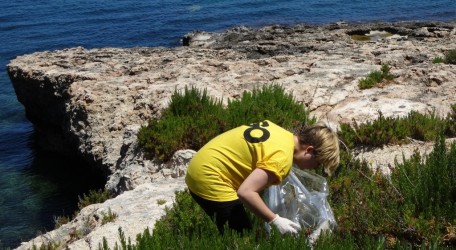 The Let's Do It! cleanup event  which took place on Saturday 10th May and Sunday 11th May across 20 sites in Malta and Gozo was  supported by GO staff, which actively participated in the cleanup event – on land at Dingli Cliffs and at sea in Valletta..
The Let's Do It! Malta event was part of Let's Do It! Mediterranean, a regional effort to clean up the sea and coastal regions of the Mediterranean Sea over a weekend. The Let's Do It! movement is one of the fastest growing international civic movements, having been formed in 2008 when 50,000 people in Estonia came together on one day to clean up the country.
Laurie Pace from Brand Marketing at GO, said, "Let's Do It! was a great initiative with 20 sites around Malta and Gozo, on land and underwater, being cleaned up over a single weekend. By supporting this event, GO continues to support the community and to play an active role in helping to ensure we can all enjoy a better environment."
Rebecca Borg from Let's Do It! Malta said "GO's support was great and the clean up was a tremendous success. We collected over 23 tons of waste and that's a conservative estimate. It's only when everyone comes together that we truly make a difference. This time we've made our beautiful country cleaner and we look forward to building on this success next year."
More information on the campaign can be found on www.letsdoitmalta.org.