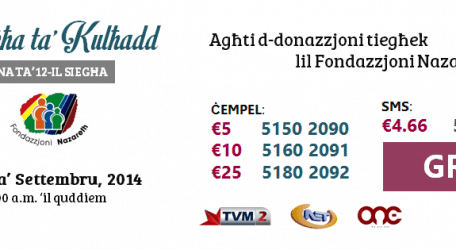 Fondazzjoni Nazareth will be organising a 12-hours TV marathon entitled 'Bis-Saħħa ta' Kulħadd', to collect donations for its foundation on Sunday, 7th September, 2014, a day before
public holiday. This marathon will kick off at 11.00 a.m. on the local stations TVM2, Net Television and ONE.
The donations that will be collected during this marathon will go for the upcoming project of Fondazzjoni Nazareth to build the fourth residence in Żejtun, to continue to better its services to those who are in need of them. From its beginning in 1995 by Fr Angelo Seychell, Fondazzjoni Nazareth never looked back, but their was the motivation to create new incentives, so the residents can live in a family environment. Fondazzjoni Nazareth which runs on voluntary basis, provides support and shelter for persons with special needs in three different homes in Żejtun: Dar Nazareth, Dar l-Arċipriet Degabriele and Dar Jean Vanier. Today, it offers its services to 29 persons with special needs.
Fondazzjoni Nazareth is inviting the public to join the marathon on Sunday 7th September and donate. This foundation is emphasizing also for those that are interested to organise an event and the
donations that will be collected will be presented during the marathon.
The public can start donating on these telephone numbers.