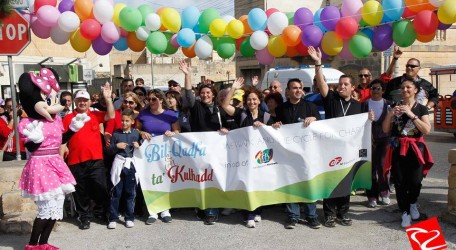 The Fondazzjoni Nazareth Sub-Committee collected €3,000 from the first edition of  'Bil-Qadfa ta' Kulħadd – Walk & Cycle for Charity' in aid of this Foundation, which was organised last Sunday, 9th February. 
Fondazzjoni Nazareth is a voluntary organisation that provides support and shelter for persons with special needs in three different homes at Żejtun.
The Sub-Committee would like to thanks all the participants, as the donations will make a difference for this Foundation. All the participants were given a certificate of participation from the favourite cartoon characters, Mickey and Minnie, thanks to Hip Hip Hurrah!.
The Sub-Committee received such a positive feedback about the first edition of Bil-Qadfa ta' Kulħadd, which thanks to them the marathon will be organised on an annual basis
.