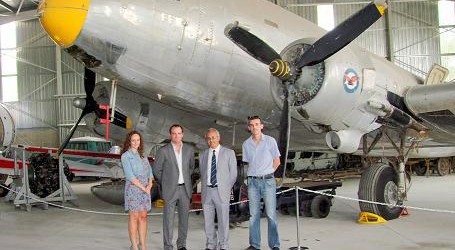 Roberta Pace and Martin Gregory from the Vodafone Malta Foundation with Raymond Polidano, Malta Aviation Museum and Robert Gatt, BGR Electrical and Plumbing.  In the background the DC 3 Dakota
The Vodafone Malta Foundation has supported the Malta Aviation Museum by footing the bill for the installation of an eco-friendly modern lighting system tailor-made for the needs of the Museum's new main exhibition hangar.
With the Foundation's support the focal exhibition area is now illuminated with an electrical system of 16 large luminaries that will light up showcases and exhibits being planned for the future.  The outside area around the hangar has also been flood-lit.
"One of our objectives was to build an exhibition hangar large enough to house most of the museum's collection of aircraft and historic aviation artifacts," said Ray Polidano Director General, Malta Aviation Museum.  "This was made possible thanks to ERDF part-funding along with monetary support from the Vodafone Malta Foundation for which we are extremely grateful.  This funding which enabled us to see the project through, means that the public, both local and foreign, will appreciate better the historic importance of the exhibits we house."
"We are glad to have contributed to the construction and finishing of an exhibition hangar which is of international standard," said Martin Gregory, Vodafone Malta Foundation. "We are confident this new development will make the museum a far greater attraction to locals and tourists alike. The fact that the project is an eco-friendly one, minimizing the use of non-renewable energy resources, made our decision to financially support this initiative easier."
The Malta Aviation Museum is located on the ex-RAF airfield in Ta' Qali. The complex consists of a large main exhibition hangar, another hangar dedicated to the Air Battle of Malta, two 200ft long Romney huts and other ancillary buildings.  Among its aircraft and memorabilia the museum houses several World War II planes.  Its "Air Battle of Malta Memorial" hangar reminds visitors of Malta's important role during the crucial years of 1940 – 1943.
The museum previously held a number of aircraft exhibits stored in a dismantled form due to lack of roofed exhibition space.  The newly-finished hangar means all exhibits could be assembled and are now displayed as complete aircraft.  The hangar is designed in a manner that maximizes the use of direct sunlight and a water reservoir has been constructed to hold run-off rain water to be used to water soft-area landscaping.