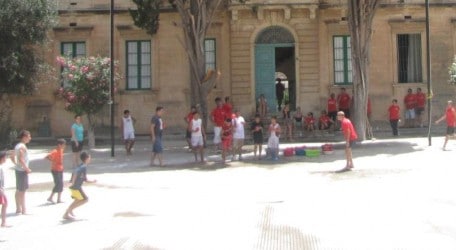 Vodafone's Business Sales and Development team spent a whole day with the children living at St Joseph Home working to make their lives better. The Vodafone team got busy cleaning the home's yard from fallen branches, shrubs and debris, clearing unwanted stuff from rooms and moving furniture around.
Vodafone employees cooked, cleaned and helped out with the final touches of the new block of apartments better known as the Independent Living flats that will be receiving boys who need attention. With great enthusiasm Vodafone staff decked the home in red, symbolising the company's colour and lifted up the place with their readiness to get their hands dirty and help out in the home. Both Vodafone employees and the kids ended up soaking wet, with the highlight of the day being the water games. Fr. Cini also gave the team a tour around the home, providing them with information and real life situations the kids have to face every single day.
"When we have visitors like the Vodafone Business Sales and Development team at the home, good things happen," said Fr. Cini, Director at St. Joseph Home. "For many, this would be the first real exposure to what really goes on within children's homes – how the children live, what they do and how the home is run. Apart from the awareness, most of them feel that they really are making a difference in the children's lives. By the end of the day, happy children and tired arms are all testimony to the value of solidarity."
"This Vodafone CSR activity was a truly inspiring opportunity for the whole team," said Keith Psaila, one of the team members from the Vodafone Business Sales and Development Department. "It made us appreciate the smaller things in life which we usually take for granted such as health, happiness, love and family. Away from our day-to-day jobs, we felt positive that we are giving something back to the community. Even though at times it got really stressful and tiring, all the participants willingly gave a hand in the various tasks organised like gardening, cleaning, clearing and cooking. Most of all we enjoyed the interaction with the children residing at the home. Finally I must say that I am amazingly impressed with the high level of dedication and commitment which the director, staff and volunteers at St. Joseph home show towards children under their care," he concluded.
St. Joseph Home is run by the Missionary Society of St. Paul and currently houses 18 boys aged between 8 and 18 years, who for many reasons cannot live at home. The boys live in three separate flats within the home according to their age group, providing them with a normal home environment with the aim of integrating them within society.