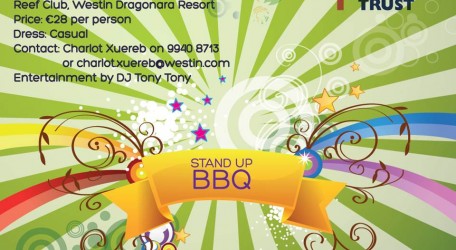 In order to support the Cystic Fibroses Foundation, The Westin Dragonara Resort, for the third consecutive year, will be hosting a fund raising BBQ.
After the great success achieved during the past two years, the event will take place on August 7th 2013 at 8 pm at the Westin Reef Club with the aim to raise funds for this cause. During the past two years the amount of €33,000 had been collected. The event costs €28 per person and includes a lavish BBQ as well as a free welcome drink and two free wine tokens with every ticket. To ensure a great mood during the whole evening, the guests will be entertained by DJ Tony Tony.
Cystic fibrosis is an inherited chronic disease that affects the lungs and digestive system. Thanks to the advances in research and medical treatments enhancements and extended life for children and adults with CF can be realized. Many people with the disease can now expect to live into their 30s, 40s and beyond. Cystic Fibrosis Foundation has been the driving force behind the pursuit of a cure.
For further details and reservations kindly contact Charlot Xuereb on [email protected] or on 99408713
Donations for Cystic Fibrosis research can also be made to: http://uk.virginmoneygiving.com/runningforacure
For more information about the Westin Dragonara Resort visit www.westindragonaramalta.com