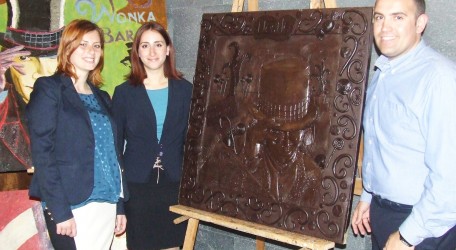 Bay Street Marketing Executive Philip Galea presenting the 100 per cent chocolate picture of a scene from Charlie and the Chocolate Factory by Master Chocolatier Andrew Farrugia to Nestlé representatives Josianne Micallef and Joanna Micallef-Farrugia
Five winners of golden tickets awarded during the Shop & Win Competition as part of last month's Nestlé Wonka Choco-Fest at the Bay Street Complex in St George'sBay, St Julian's, have been presented with their prizes.
Tiziana Francalanza won an electric scooter worth €2,800; Lucien Malaquti won the Bay Street Hotel weekend break; Sina Mifsud and Audrey Polidano won the Nestlé Confectionery goodie baskets; and Luke Borg won gifts from Juniors Fun & Learn Centre at Bay Street.
This year's Nestlé Wonka Choco-Fest, held over the Easter holidays between 19 and 27 April, was an outstanding success. "We wish to express our heartfelt thanks to all the chocolate lovers of all ages who visited Bay Street during this amazing event," Bay Street Marketing Executive Philip Galea said.
"Special thanks go to our main sponsor, Nestlé, with their new range of Wonka chocolates, Master Chocolatier Andrew Farrugia, the students from the Institute of Tourism Studies and all the actors and actresses who played the parts of Charlie and the Umpa Lumpas during the nine-day choco-fest."
As a sign of Bay Street's gratitude to the management of Nestlé in Malta for their support of this event, it presented them with all the chocolate sculptures and chocolate paintings made by Mr Farrugia, who holds the Guinness World Record for the longest chocolate sculpture, during the two days he was at the choco-fest.
The Nestlé Wonka Choco-Fest was also an opportunity for Bay Street to assist the Beating Hearts Malta Foundation, which received all the proceeds of the event. This amounted to €2,500, which was raised over these nine days to support the foundation in its mission to help children with heart problems.
"We are highly grateful for this successful outcome," Mr Galea said. "It shows that what we are building here at Bay Street is increasingly being welcomed by our clients and many visitors. It won't stop here since we are very pleased to announce that Charlie and the Chocolate Factory will come back for Easter 2015."