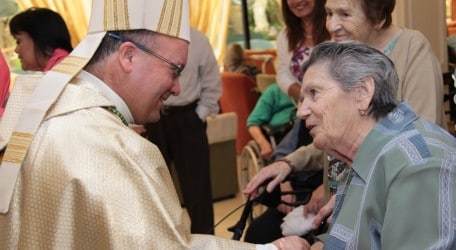 Pictured above: His Lordship Mgr Charles Scicluna with Mrs Giuseppa Zammit, and Mrs Mary Muscat with Mrs Josette Vella in the background 
A visit by the Auxiliary Bishop and Vicar General Mgr Charles J. Scicluna to Casa Antonia marked the beginning of the 10th anniversary activities of this nursing and residential home in Balzan. Bishop Scicluna was welcomed by the Managing Director Edward Vella and General Manager Dr Sarah Cassar. He concelebrated Holy Mass in the chapel with the clergy that regularly serve at Casa Antonia.
Mgr Scicluna dedicated time to meet the residents and staff. In his address during lunch, Mr Vella spoke about the significance of the occasion and how over the past ten years the management has provided a warm, safe and caring environment to all residents.  The activity ended with a surprise birthday cake for Mgr Scicluna who turned 54 the day before.
Spread over a large area of tastefully decorated spaces in classic design and surrounded by lavish gardens, Casa Antonia offers a comfortable accommodation for 120 residents, which can be enjoyed in single rooms, sharing, or apartments.  The home provides all kinds of services, from a simple luxury accommodation to personalised and specialised medical treatment. All areas and floors are wheelchair accessible.
Casa Antonia was opened in May 2003. Since then, it has established itself as one of Malta's top nursing and residential homes, offering long-term care, short-stay convalescence, respite, dementia and day care. More information at www.casa-antonia.com.mt