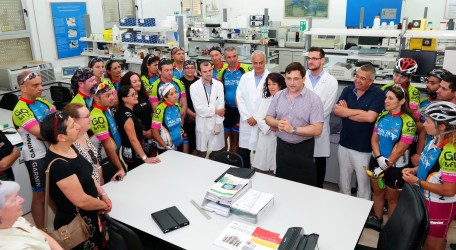 Pictured above: Prof Christian Scerr with cyclists and Dr Godfrey Grech, researcher Shawn Baldacchino, and RIDT's CEO Wilfred Kenely. Also in picture Europa Donna (Malta) President Gertrude Abela, ABCF's President Esther Sant and ALIVE Chairperson Nicky Camilleri.
Taking a short break from their Sunday training session, ALIVE Charity Foundation cyclists, today (8th June), stopped at the University of Malta and visited the Laboratory of Molecular Genetics.
The cyclists, who are currently training for next month's gruelling 1,000km marathon Malta Airport – ALIVE 2014 Cycling Challenge for Cancer, are for the second year raising funds for a specialised programme facilitated by the University's Research Trust (RIDT).
Last year, Malta Airport – ALIVE 2013 Cycling Challenge for Cancer donated the first tranche of €55,000 to the Action for Breast Cancer Foundation (ABCF) which has been injected via RIDT into breast cancer research projects and thus sustaining ALIVE Charity Foundation initiative.
The cyclists, accompanied by the ALIVE committee, were welcomed by the University Pro-Rector Professor Richard Muscat, the Head of the Physiology and Biochemistry Department Professor Christian Scerri, Senior Lecturer within the Pathology Department Dr Godfrey Grech and RIDT's Chief Executive Wilfred Kenely. They also met researcher Shawn Baldacchino, who is benefitting from ALIVE 2013 contribution, to further research on breast cancer at the University.
They were briefed about the research project which aims to unravel the genetics of the Maltese population in order to ensure improvement in survival rates of breast cancer patients. With the money being raised by ALIVE Foundation cyclists, the University of Malta will sustain the crucial scientific research in breast cancer for the coming years.
While thanking the ALIVE Charity Foundation for their contribution, Prof Muscat said: "This is indeed a noble gesture. We greatly appreciate all your efforts in raising funds. Thanks to your hard work the University is furthering its important research in the field of breast cancer."
Commenting on the progress being made in breast cancer research, Professor Scerri said that, "The University Team of researchers has been involved in developing a better understanding of how genes are involved in cancer development and progression, that can then be utilised for the prevention, diagnosis and treatment. For the past five years our University in collaboration with the Departments of Anatomy and Clinical Pharmacology of the Faculty of Medicine and the Mater Dei Hospital Breast Clinic, has registered extensive progress on particular biochemical pathways in breast cancer. Our aim is ensure that this crucial study is sustained along the coming years. This should lead to mid and long-term benefits for the Maltese society."
ALIVE Charity Foundation Chairperson Nicky Camilleri said: "Our Foundation is working together with the Action for Breast Cancer Foundation and Europa Donna to raise awareness and to help fund further breast cancer research projects in order to ensure an increase in survival rates of breast cancer patients in Malta. And with this in mind we are very encouraged to carry on with our mission. At the moment we are undergoing intensive training to get our bodies and minds in top shape for the challenge. We would like to thank the Maltese people and our sponsors for their trust in us."
The second edition of the Malta Airport – ALIVE2014 Cycling Challenge for Cancer will see 45 male and female cyclists, cycling across five European cities: from Prague to Vienna to Bratislava to Budapest and finally to Belgrade, from 9th to 18th July 2014. This challenge is being held in collaboration with the Action for Breast Cancer Foundation and Europa Donna Malta.
ALIVE2014 is sponsored by Malta International Airport and supported by Sky Spirits Fitness Lounge, Impressions Print, Signs and Displays, Go & Fun, Debenhams, Gollcher Group, Pizza Petrus, Garmin, Express Group, KPMG and many others.
The public can help this year's team either by making a donation, by signing up to one of the fundraising events or by supporting the cyclists' participation on the road by logging on: www.alivecharity.com  Donations can be sent by SMS on 50617364 (€2.33); 5061 8081 (€4.66); 5061 8913 (€6.99); and 5061 9208 (€11.65), or via bank transfer: Account No – BOV 4002149804-6 Alive Charity Foundation – Bank's Bic – VALLMTMT – IBAN- MT85 VALL 2201 3000 0000 4002 1498 046.