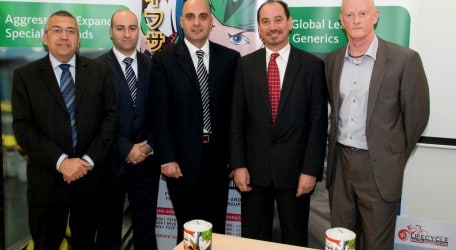 Pictured above: RIDT's CEO Wilfred Kenely, Mauro Abdilla and Patrick Cachia from Actavis, Health Minister Dr Godfrey Farrugia and LifeCycle Malta Co-founder and Chairperson Alan Curry 
   €70,000 donated to University's Research Trust
The Actavis LifeCycle 2014 Challenge will this year take participants on a 2,000km journey from Fukuoka to Tokyo.
The challenge was launched on Thursday in the presence of Health Minister Godfrey Farrugia at the Renal Unit, which has received millions of euros worth of equipment and services from the previous 15 editions, including kidney machines, air-conditioning for the unit, a haemodialysis reverse osmosis plant, LCD screens for the patients, the services of a dietician and a van to facilitate the provision of evening dialysis services.
Dr Farrugia thanked the Foundation for its success in raising money for the Renal Unit for the benefit of all the renal patients and their families.
The LifeCycle Foundation also donated €70,000 to the Research Innovation and Development Trust (RIDT) set up through the University of Malta, which will be used to support a research programme into renal failure and its possible prevention. Only a few of the 760 charities in Malta raise money for research so this donation is a real breakthrough.
"This donation marks the beginning of a long-term collaboration between the RIDT and LifeCycle (Malta) Foundation. It is uplifting to see local charities acknowledging and supporting research." Wilfred Kenely, the chief executive officer of the University's RIDT said. A working group will be set up to work on the terms of this collaboration.
The Challenge is once again being sponsored by the integrated specialty pharmaceutical company, Actavis which last year donated €20,000, will this year be donating over €20,000.
"On a regular basis we assist non-profit organisations and contribute to economic, environmental and philanthropic initiatives that improve the health and the quality of life of our community," Actavis general manager Patrick Cachia said at the launch.
"The support that Actavis gives to the Lifecycle Challenge aligns itself with the company's three powerful words of our corporate 'winning behaviours' that define how we act and what we do on a daily basis namely: challenge (to go the extra mile, work hard); connect (to unite local knowledge and work as a team in a global scenario); and commit (delivering on commitments and embracing corporate social responsibility)."
The challenge is ranked as one of the hardest in the world. The route is grueling – with cyclists doing an average of over 200km each and every day, across terrain chosen specifically for its difficulty.
"We need to have a destination which attracts participants and attracts media attention because that is what attracts sponsors and what ultimately generates funds," LifeCycle (Malta) Foundation executive member and Chairperson,  Alan Curry said.
"There is a lot of competition for funds and it gets harder every year but the Renal Unit has always got a wish-list and we will do all that we can to raise the money."
Each participant has to raise a set amount of money before they are allowed to participate, which they do through a mixture of corporate sponsorships and fundraising events. These have to be organised in between several hours of training every day as well as home and work commitments.
By the time they leave in September, the cyclists will have been doing eight hours of training a day in preparation for the average 200km they will have to do every day during the challenge.