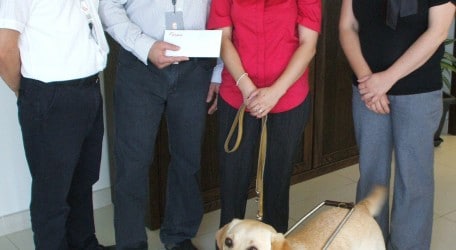 Pictured above: Kevin Vella presents the donation to Christine Mifsud, Vice-Chairman of the Malta Guide Dogs Foundation, and her guide dog Winny. With them are (from left) Jason Zammit and Helga Cassar Parnis of Actavis
On a yearly basis, Actavis and its employees organise a football tournament with the funds raised from this activity being donated to a charitable organisation. Part of the money raised during this year's football tournament was donated to The Malta Guide Dogs Foundation.
Christine Mifsud, Vice-Chairman of the MGDF, and her companion guide dog, Winny, received the sum raised on behalf of the foundation from Kevin Vella, who for the past years was an integral part of the team who organises this yearly tournament.
Ms Mifsud thanked Actavis for their generosity, outlining the work the foundation does to train its clients in orientation and mobility, apart from matching them with the right guide dog, that would either have been raised by Puppy Walkers in Malta before being sent for training to Sicily or acquired from a training centre in Sweden or Slovakia.