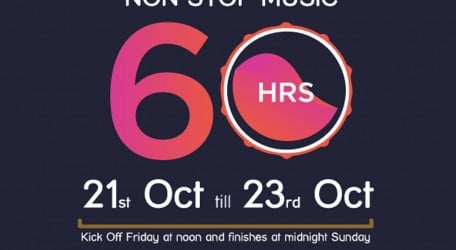 After the success of the first edition of the Talbot & Bons Live Music Marathon, Talbot & Bons have once again teamed up with Entertainment.com.mt to bring you the second edition of this marathon, this year with 60 hours of non-stop live music. This weekend will feature 60 acts, spanning all hours between Friday, 21 October, kicking off at noon and ending the following Sunday at midnight.
Music genres will cover a wide spectrum, from soft acoustic duos, to jazz bands, soft rock bands and more. The team is currently finalising the schedule so artists who would like to perform during the marathon are encouraged to contact Christian Borg or Stephanie Camilleri by sending an e-mail to [email protected]
More information can be found on www.entertainment.com.mt/mymusicmystory. Big names are already on board, among them Pamela Bezzina, Claudia Faniello, Nadine Axisa, Rachel Fabri, Sandrina & Keith from Skarlet, Gianluca Bezzina, Domnic Galea, Paul Giordimaina and Vinny Vella Jr.
Yes it's fun, but it's not only that; it's for a good cause. This time these musicians will help collect funds through music for those children and youths who have music potential, yet lack the resources, for some reason or other, to attend high end master classes and workshops in their field.
Amy, Stephanie, Christian and Alan, who are the organisers of this marathon, hope that by giving these kids this chance, they will be making their dream come true. It is an initiative enabling musicians and those involved in the music industry to give an opportunity to aspiring young artists to be exposed to more focused tuition in their area.
In this regard, applications are available so that an evaluation process can be started and, depending on the sum collected, a number of children will be identified to benefit from this opportunity. These children are also asked to name their favourite local artist, such that during this marathon they may have the opportunity to meet up with them.
These applications can either be downloaded from www.entertainment.com.mt/application or picked up from various organisations (a list of which can be found on the above website) and also from Talbot & Bons, SkyParks Business Centre, Malta International Airport.
Preparations are in full swing to ensure that it will be another successful Live Music Marathon, such that Talbot & Bons patrons can have a good time while helping those in need.
Talbot & Bons and Entertainment.com.mt thank their main sponsors, SkyParks Business Centre, and their supporting partners Pure Concepts Design Studio, AF Sign Studio, Print Boutique, Hoila Cider, Amarcord beer, Nexos Lighting, Besteam Audio, Band Aid Music, General Soft Drinks, Farsons and defined Branding, without whom this event would not have been possible.
Do not hesitate to contact them should you wish to help out during the event, in any way possible. For more information, e-mail Amy Talbot on [email protected]