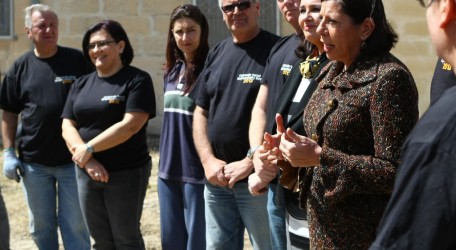 Pictured above: HE Acting President of Malta Dolores Cristina, with (from left) HG Archbishop Paul Cremona, Hon Minister Helena Dalli, and representatives from participating companies 
Seven caring institutions were renovated thanks to voluntary work carried out on Corporate Social Responsibility (CSR) Day 2013, organised annually on 19 March, with around 500 volunteers from eight Maltese companies taking part in aid of caring institutions across Malta and Gozo. The work consisted of various chores such as gardening, maintenance works, painting and whitewashing as well as sewing of curtains.
Arrow Pharma and HSBC Malta employees teamed up at Fra Diegu Home in Ħamrun; Deloitte employees carried out works at Dar Qalb ta' Ġesu' in Santa Venera; Farsons Group at Dar il-Wens in Kalkara; Tumas Group at Dar Merħba Bik in Balzan; Munich Re and MSV Life joined forces at Caritas Therapeutic Centre in San Blas; while employees from Vassallo Group focused their efforts at St Jeanne Antide Foundation in Tarxien.
In Gozo, a group of volunteers from HSBC Malta also worked away at Arka Respite Centre. CSR Day 2013 also received support from Junior Chamber International, the Sovereign Military Order of Malta, Red Cross Malta and the International Police Association.
The volunteers were paid a visit by Her Excellency Acting President of Malta Dolores Cristina, His Grace the Archbishop Paul Cremona, and Hon Minister for Social Dialogue, Consumer Affairs & Civil Liberties Helena Dalli, who thanked all volunteers for their commitment and dedication towards this worthy cause.
Hon Dr Dalli expressed her appreciation for the time and energy that the participating companies and staff members put into this year's CSR Day and said that apart from promoting volunteering, such an initiative was in itself a team building event.