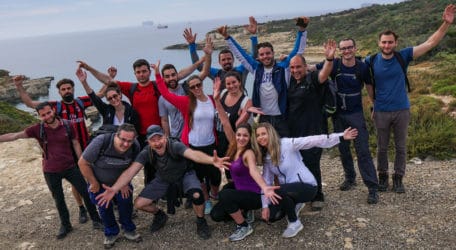 The 13th Kilimanjaro Challenge (KC13) which will see 16 people climbing the highest free-standing mountain in the world at the end of this year in a bid to raise money to help an Ethiopian community was launched today.
Over the past 12 years, more than €820,000 were collected through the challenge for twelve projects in Kenya and Ethiopia, all of which were orchestrated by the 'Missionary Movement Jesus in Thy Neighbour' (VO/0140), founded by the late Fr George Grima.
Challenge founder Keith Marshall said that the previous twelve expeditions up the mountain were very successful, both in terms of success rates as well as fund-raising prowess. To quantify, in excess of € 820,000 have so far been collected and invested in the construction of a school and convent in the Ethiopian village of Bulbula; a wing for a 3-in-1 project; a house hosting 100 physically disabled, deaf and blind children in Kenya; a clinic in Sakko; a Kindergarten school in Gambella; another Kindergarten school in Dembidolo area, another in Jemu area and another in Wush, all four in Ethiopia and also financed the completion of a Centre for Disabled Children in Bonga, Ethiopia.
Austin Cachia, KC co-organiser, said that this year's challenge is to collect €100,000 to finance the construction of a Primary school in Bonga, Ethiopia. The school is planned to be built on two floors containing 12 classrooms. The idea to implement this project came from the repeated request of the people in the area as Bonga does not have a qualified primary school. The implementation of this project will have a considerable impact and advantage for the school age children of Bonga town and their families. The direct beneficiaries are 450 children from 7 -12 years old around Bonga town where the project is going to be implemented. The project will also indirectly benefit families of the surrounding communities whose children will have improved education, malnutrition and poverty associated problems.
Expedition member Jonathan Galea, said that the team has been training since March and will head to Kilimanjaro, Africa on the 31st of December. After spending eight days on the mountain, the team will continue their journey onto Ethiopia to inaugurate the project.
The members of KC13 will be organising various events throughout the year to collect the necessary donations. The next event is a BBQ that will be held at the Hilton hotel on the 28th July 2019. All proceeds from this event will go towards financing the project. One can find the event on Facebook or can contact Cinzia Fenech on 77558833 for more information.
You can assist us by sending donations on the following numbers:
| | |
| --- | --- |
| Phone numbers: | SMS Numbers: |
| 51502084 – €5 | 50618062 – €4.66 |
| 51602028 – €10 | 50618861 – €6.99 |
| 51802095 – €25 | 50619261 – €11.65 |
For more information about the organisation or to find out how you can help, please visit the facebook page, Kilimanjaro Challenge Malta, or visit our website www.kilimanjarochallengemalta.com