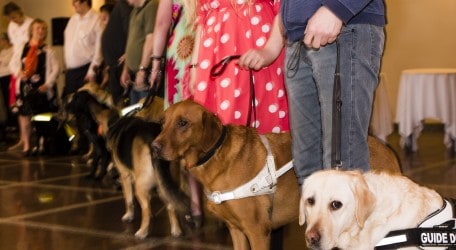 The President of Malta, H.E. Marie-Louise Coleiro Preca, commended the European Guide Dog Federation for their essential work to advance the needs and rights of guide dog owners at a European level in her introductory remarks to the conference on Friday.
"I am pleased that your work is bringing visibility to this important sphere of inclusion and, in a more tangible way, ensuring accessibility, independent mobility and employability," the President said. She expressed confidence that the conference would be a valuable and safe space for guide dog professionals from across Europe to share good practice and keep informed about the most recent developments in the sector.
President Coleiro Preca noted that the conference was highlighting the relevance of the United Nations' Agenda 2030, which specifically mentions persons with disabilities and underlines the particular challenges faced by persons in vulnerable situations. Among the Sustainable Development Goals (SDGs) she mentioned were the fourth on education, the eighth on inclusive economic growth, the tenth on social, economic and political inclusion of persons with disability and the seventeenth on the importance of data collection and the continued monitoring of SDGs.
"It is clear that Agenda 2030, and its 17 Sustainable Development Goals, are an essential lifeline for each and every one of us. The responsibility to effectively implement Agenda 2030 does not only rest with our respective governments as we all have a duty to make the SDGs work for us, for our families, and for our communities," she added.
This was the largest international gathering of guide dog and service users in Europe with no fewer than 16 guide dogs with their handlers having travelled to Malta, apart from several guide dog trainers and mobility instructors – over 50 delegates from a total of 20 countries.
The conference was chaired by EGDF President David Adams and opened by country hosts, the Malta Guide Dogs Foundation Chairman Leone Sciberras, who listed the foundation's three principle aims:
1. To ensure equal opportunities for all, in particular for blind and visually impaired persons;
2. To provide specific mobility services for blind and visually impaired persons where and when the need arises, including the provision of guide dog services; and
3. To ensure that all public and private services in the Maltese Islands are accessible to all blind and visually impaired persons.
Mr Sciberras also thanked all volunteers and sponsors who made this event possible. Among the interventions, Karine Garnier, EGDF Board Member, France, spoke on the Federation's first 10 years and one from Judith Jones, EGDF Executive Director, on the major achievements and the way ahead.
Peter van der Heijden, International Guide Dog Federation Board Member, brought the greetings from the IGDF. Mr Adams and Danny Vancoppernolle, Assistance Dogs Europe (ADEu) President, Belgium, spoke on access issues and were after joined in a panel discussion with Mr van der Heijden; Mark Van Gelder, ADEu Board Member, Belgium; Sean Dilley, EGDF Board Member, Romania; and Tony and Stephen Anderson, EGDF Supporters, UK.
Dr Marijan Sesar, Chairman, CEN TC452, and Director, Rehabilitation Centre Silver, Croatia, spoke on the work of the European standards committee in preparing a European standard for assistance dogs; and a second panel discussion was held on What we need in a European standard for assistance dogs. The participants were: Ms Jones; Dr Sesar; Mr van der Heijden; Darinka Lecnik-Urbancl, EGDF Board Member, Slovenia; Dr Karl Weissenbacher, Director, Messerli Research Institute, Veterinary University of Vienna, Austria; and Chris Muldoon, Research Development Manager, Guide Dogs for the Blind, UK.
Dr Weissenbacher then presented a comparative study as part of the quality assessment of guide dogs on stress exposure during exams; Gavin Neate, Founder and CEO, Neatebox, presented the latest technology and answered the question: Will emerging technologies make guide dogs redundant? (No.)
Dr Marion Steff, European Disability Forum, Belgium, sent a pre-recorded presentation on: How the EU works to improve the lives of disabled people: Sustainable Development Goals, the UN Convention on the Rights of Persons with Disabilities and the European Disability Act; and Dr Simon Adderley, Senior Lecturer, Oxford Brookes University, UK, sent a recorded appeal for participation in a research study about self-employment of guide dog users.
There was also an interesting address from author Sara Shamloo Ekblad, of Synskadades Riksförbund, Sweden (a guide dog handler), on what she learned while writing a book about guide dog schools around the world.
Many delegates at the conference took the opportunity to spend more time in Malta and a sightseeing tour was organised after the EGDF Board met on Saturday.