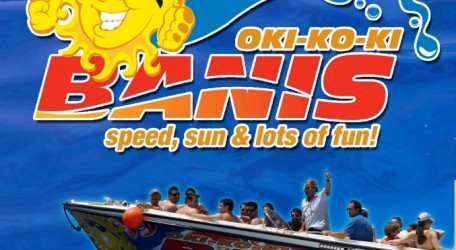 If there's anyone as synonymous with Maltese tourism as the tourists themselves it has to be 'Il Banis', Tony Muscat renowned for his St Julian's based OKI-KO-KI Banis water sports brand.
This week Il Banis celebrates 40 years of uninterrupted summertime sea-bound fun. In the in- between years thousands of tourists from all over the world will have taken the OKI- KO-KI fun boat trips to any of the island's more remote impressive bays, coves and creeks.
"It amazes me that wherever he is in the world, there's always someone who recognizes him, who thanks him for a splendid time he would have had on one of his boats – even  ten years back. It's because he is such a natural in providing people with a great time on his boats",  his brother Martin explains.
Tony 'Il Banis' is a born hospitality genius who launched his business in 1973 with a modest 16 foot hire- purchased Swordfish powered first by a 50hp then an amazing 70 hp engine. It was Tony, a former world class champion  skier, who introduced water skiing and several other popular water sports to Malta .
Success with the Kingfisher lead to a second boat, a wooden speedboat kitted with  an engine so powerful he told  everyone ' I'm going out, and if I'm not back within 15 minutes, come pick me up', his brother Martin remembers.
"We waited for 20 minutes, 25 minutes, 30 minutes with no sign of Tony so we went looking for him. We found him with the boat upside down, just about to sink, with Banis hanging on to the fuel tanks for dear life. As we got near he kept shouting. "I told you to come for me after 15 minutes, what took you so long."
As much as 'Il Banis, Tony is popularly known for his OKI-KO-Ki trademark splashed in illuminating colours all over his powerful boats . He owes that to an elderly lady, a frequent customer who found his earlier brand name ' Rock on Tommy' confusing.
" You're all the time saying  OKI- KO- KI. That's who you are, that's your brand". The rest, as they say, is history.
As the undisputed pioneer of water sports in Malta, Tony 'Banis' Muscat is a living legend, a natural entertainer with a heart of gold now 65 years young but still packing the drive and energy of a 20 year old. No doubt another 10 years of OKI_KO_KI sun, speed and fun beckon.