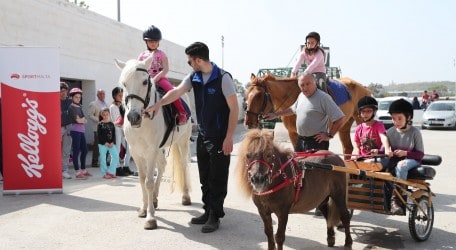 It was around seven years ago when SportMalta formerly Kunsill Malti Għall-Isport together with the Malta Racing Club joined forces to set up the Horse Racing Academy. Today, it runs horse racing sessions for children as part of #OnTheMove programme, sponsored by Kellogg's.
The Horse Racing Academy, co-ordinated by Thomas Cunningham and five dedicated instructors, is training nearly 50 youths and children. It has its own six friendly ponies and horses for the children to use during the training sessions. On certain occasions some participants bring their own shetland ponies to train for the Academy Races that are held at the Marsa Race Track during normal horse racing programmes.
#OnTheMove programme offers 2-hour sessions on Saturday mornings at the Malta Racing Club in Marsa. Participants, whose ages vary between 7 and 14 years, are coached on how to ride properly and confidently and how to conduct a pony or horse around a secluded flat area. Afterwards, they join groups of four to enjoy test races.
"As we are approaching our end of year competitions in June, we are organising shetland ponies trotting races so that participants gain competition experience," said Thomas Cunningham. "We train participants in small groups so that they learn how to build and develop the correct riding skills. Apart from this, we also teach children on the basic care for horses and their needs."
#On the Move – winter programme is sponsored by Kellogg's, the world's leading producer of breakfast cereal. For more than a century Kellogg's has been focusing on enriching and delighting the world through foods and brands that matter. The company has been extending its support to Skolasport (as formerly known) since 1999, and actively promotes a variety of educational sports disciplines within Sport Malta's winter programme.
Further information about #OnTheMove programmes, can be obtained from SportMalta Head Office on tel. 2203 6000, via e-mail: [email protected] or visit the website: www.sportmalta.org.mt.