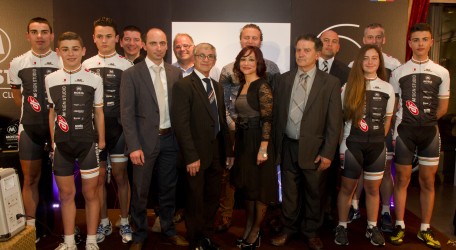 To celebrate its 60th Anniversary, Mosta AF Sign Studio Cycling Club launched a completely new image, new kit and new branding that lives up to its philosophy and motto 'onwards'. The launch was held at Bacchus Restaurant in Mdina. The List of distinguished guests present at the launch event also included Youth Director of the Maltese Olympic Committee, Mr Envic Galea.
Founded in 1953, Mosta AF Sign Studio Cycling Club is Malta's oldest and most successful cycling club. Over the years, the club has received numerous accolades and tributes as a result of its participation and podium finishes in local races, including the Malta National Cycling Championships and Tour of Malta. The club is a non-profit making organisation that is wholly supported by the generosity of well-known local and international brands that support the club's endeavours, both locally and abroad.
Mosta AF Sign Studio Cycling Club's commitment to promote a healthy lifestyle among the younger generation, led the club to set up the first Cycling Academy on the island, in 2008. The Cycling Academy has today acquired a positive widespread reputation thanks to the commitment exhibited by its qualified coaches, organisers and supporting members.
The club's driving force is powered by the desire to educate and promote the development if young athletes socially, physically and psychologically.
For more details contact Mosta AF Sign Studio Cycling Club on [email protected] or call on 99443080.