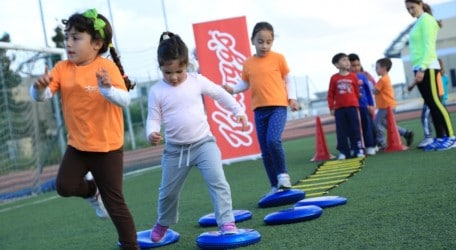 The Foundation module offered by KMS Skolasport programme for participants aged between 4 to 6 years gives children the opportunity to enjoy physical exercise and learn basic movement skills. Organised by Kunsill Malti għall-iSport and sponsored for the 14th consecutive year by Kellogg's, the programme offers children a choice of different sports at various localities where they can learn the skills and rules of a particular sport outside their school curriculum.
A popular Foundation class is Fun Athletics, specifically designed to encourage young participants to foster social, intellectual and physical development during these 'building block' years. The skills learned during this period lay a solid foundation for grasping more complex sports and activities.
Ms Ruth Borg Thompson who coaches one of the 6 year old groups at Maria Regina Boys Secondary School in Mosta said that through the training the children became more coordinated, learnt to wait and share and are very helpful with each other. "Getting a child involved in physical exercise at a young age is one of the best things a parent can do to establish a lifetime of healthy activity. The programme helps the children to learn new skills from various sports which will help them to choose their favourite sport and practise it more seriously," explained Ms Thompson.
Mosta Head Coach Reuben Baldacchino said, "Although the focus of the programme is for young children to socialise and have fun, we try to instil and pass on our passion for sports so that they continue to pursue and develop their preferred sport. Engaging the young participants in physical activity helps them maintain healthy weight, stay alert and concentrated during learning hours."
KMS Skolasport provides children with a holistic educational programme that improves their sporting abilities and exposes them to team building activities.
Adults are also invited to support their children and join in the fun by taking part in the adult fitness and dance sessions held concurrently with the children's activities at KMS Skolasport venues.
Kellogg's, the world's leading producer of breakfast cereal and healthy snacks, sponsors KMS Skolasport and its initiatives to encourage children to  start practising sports which is beneficial to their health.
The Foundation training sessions are held at different venues so that children have the possibility to attend the nearest sports centre to their home. Besides MariaReginaBoysSecondary School in Mosta, other venues include Cottonera Sports Complex, Marsa Sports Complex, Tal-Qroqq University Sports Complex, St Benedict College in Kirkop, St Ignatius Boys Secondary School in Tal-Handaq and Sta.ClaraCollege in Pembroke.
For further information one can contact the Programmes Section at Kunsill Malti għall-iSport Head Office on tel. 2203 6000 or via e-mail: [email protected] or visit the KMS website: www.sportmalta.org.mt.