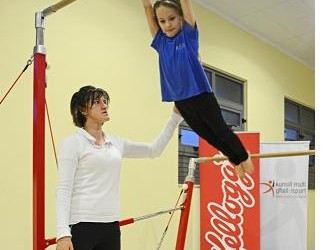 Gymnastics is a safe, fun and challenging sport that offers movement opportunities for young children to develop their physical, social and emotional skills. At the KMS Skolasport in Kirkop, gymnastic instructors drill the practising gymnasts with routines that develop muscular flexibility, strength and stamina, but also make them aware of their posture and gracefulness. The Kellogg's sponsored programme is designed to help the participants develop from a young age the skills needed to compete at high levels.
Robert Portelli, Head of KMS Skolasport Programmes, said: "Gymnastics is considered by many to be the foundation for land based sports and as it helps children develop the agility, balance and co-ordination required for other sports and, indeed for life. It is always encouraging to see students that were introduced to gymnastics through our programme progress to compete on national level."
Gymnastics sessions offered by Kunsill Malti għall-iSport as part of the Skolasport Programme, are held from Monday to Friday at the KMS Kirkop Sports Complex. The 75-minute sessions are subdivided into different work areas with personalised coaching covering floor work, beam, vault, and trampoline, thus complementing every participant's physical ability and advancement.
Over the past 14 years, Kellogg's, the world's leading producer of breakfast cereals, has been sponsoring KMS Skolasport as part of its commitment that good nutrition, coupled with physical exercise will lead to a healthy lifestyle.
Gymnastics is also being taught in other KMS Skolasport venues including every Friday at the Cottonera Sports Complex, every Saturday at St. Clare Girls Secondary School in Pembroke and Tal-Qroqq Sports Complex, and from Monday to Saturday at the Maria Regina Boys Secondary School in Mosta.
KMS Skolasport is still accepting applications for the remaining available courses which run till the 30th May 2014. The application fees are worked pro-rata per term. Terms and conditions may apply.
For further information about gymnastic classes or any other sport disciplines practiced at the KMS SkolaSport, one can contact the Programmes Section at the Kunsill Malti ghall-iSport Head Office on tel. 2203 6000 or via e-mail: [email protected] or visit the KMS website: www.sportsmalta.org.mt.