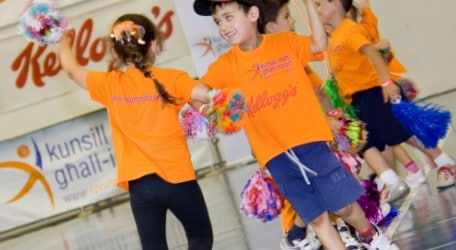 KMS Skolasport, a programme run by the Kunsill Malti għall-iSport (KMS), has launched its new programme for children and adults. This year KMS Skolasport will be incorporating four new venues to its already wide selection. As the official sponsor of the KMS Skolasport programme for the 13th consecutive year, Kellogg's is marking a long term relationship in Malta with sport activities organised by KMS.
St Ignatius College, which includes Primary schools in Qormi, Siġġiewi and Luqa, and Żebbuġ Secondary School, has been added to the growing list of sports venues. Other sports venues include, Maria Regina College, Mosta, Tal-Qroqq Sports Complex, Tal-Handaq, Marsa Sports Complex, Cottonera Sports Complex, St Benedict's Sports Complex (Kirkop), St Claire's College (Pembroke), and Tal-Qroqq Sports Complex in addition to other private venues.
KMS Skolasport works towards further increasing the participation of sports and physical fitness amongst children and teenagers, and encourages them to lead a healthier and more active lifestyle.
The Foundation module is open for children aged between 4 and 6 years old; the Participation module is open for children aged between 7 and 10 years; and the Performance module is open for children aged between 9 years and 16 years. Activities for these modules are mainly held on Saturday mornings and adults are invited to support their children and join in the fun by taking part in an adult activity class held concurrently with the children's activity.
This is Kellogg's 13th year of sponsoring KMS Skolasport. Kellogg's is the world renowned producer of breakfast cereals giving adults and children the necessary nutrients and vitamins at breakfast to kick start their day.
"KMS Skolasport has been the starting point for many Maltese children in their discovery and enjoyment of sport. This is why Kellogg's, a food company with a 100-year heritage of nutrition leadership, has been sponsoring events related with KMS Skolasport for the past 13 years. By sponsoring this initiative, Kellogg's is not only directly contributing to a healthier Maltese generation, but is also helping adults rediscover their love for sports," said Kellogg's spokesperson in Malta.
Further information and application forms may be downloaded from www.sportsmalta.org.mt.
Ends