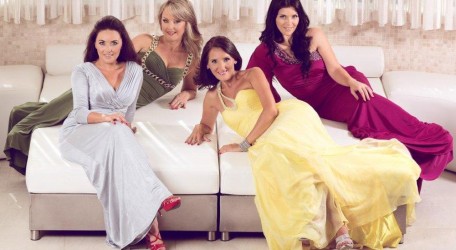 Pictured above:The four presenters Clare Agius, Moira Delia, Claire Agius Ordway and Pauline Agius
Kellogg's Special K is partnering with this season's Ilsien in-Nisa, a popular television programme presented by four dynamic well-known Maltese female personalities. The cast includes Clare Agius, Moira Delia, Pauline Agius, and Claire Agius Ordway who with their charm and energy bring up interesting  topics for discussion every week.
The TV programme aims to be both entertaining and educational with topical subjects in the news, interviews and discussions on issues affecting women. Subjects range widely from health, parenting, education, relationships, work, to food and fashion. Each of the presenters, known for their distinctive personality and lifestyle, draw from their own experiences, opinions and research that contribute to the discussion.
"Kellogg's, which has been helping people start their day with breakfast for more than 100 years, is partnering with the programme's all female protagonists because they all believe that a great start of every day is a critical component to success. The team will share their personal nutritional habits among other topics of interest during their programmes," said Kellogg's spokesperson in Malta.
The four presenters have been identified for their confidence, femininity and their elegance, as well as they give priority to nutrition and healthy lifestyle. The characters themed with the programme's fresh approach towards life, makes the television programme both enriching and entertaining to the Maltese viewers.
"Kellogg's is making it easier for women to manage their weight and achieve that same fabulous feeling of looking great as exhibited by these presenters, through its free online personal slimming plan. Our aim is to see individuals establish a long term healthy lifestyle to keep the weight off and stay healthy," added the Kellogg's spokesperson.
Kellogg's Special K free online personal plan www.specialk.co.uk can help consumers get back into the shape they always wanted. The free online personal plan offers each individual the right advice to make one aware of the eating style according to his or her needs.
Kellogg's Special K is developed by Kellogg's expert nutritionists for people watching their shape. With a range of 7 Special K cereals to choose from and following a healthy and balanced diet, it's a little bit easier and tastier to regain that feel good sensation again.
The seven varieties of Kellogg's Special K include Special K Original, Special K Red Berries, Special K Peach & Apricot, Special K Dark Chocolate, Special K Milk Chocolate, Special K Oats & Honey, Special K Hazelnut Clusters & Almonds and Kellogg's Special K Bliss Strawberry & Chocolate.  Kellogg's Special K also offers a range of delicious and convenient on-the-go cereal bars and Special K Mini Breaks, which are an alternative to other indulgent snacks.
 Critically acclaimed as one of last year's best programmes, Ilsien in-Nisa is screened every Thursday at 9.45pm on ONE, with a repeat on Saturday at 11.30pm.