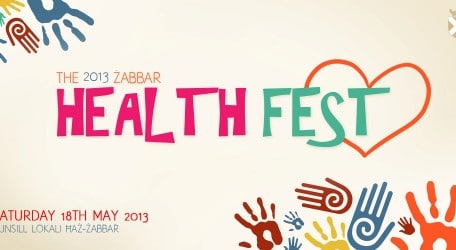 The first event organised by the new Zabbar Local Council is going to be HealthFest 2013. Not only is this the first event held by the council but this will be the first time that the innovative open-governance system will be used. The main aim of this new system is to enable interested citizens to get more directly involved in the governance of their own locality by forming part of a number of Action Teams, each targeted to address different sectors and issues of the society.
HealthFest aims to raise awareness about healthy food, healthy practices and well-being, all in a fun environment. For many years, being healthy meant renouncing on the finer things in life and reducing yourself to an overall sense of apathy and lethargy. This is where this festival hopes to change people's mentality.
The intense programme for the day will kick off at 9am and will come to an end at around 6pm. The football pitch will be the main venue for a sports day for children and a football tournament. Aerobics and dance music will take over the Greek Theatre. Over at the civic centre, there will be weight loss sessions for adults, children and teens as well as free health services by specialised doctors. Zumba, fitness classes, fitness boot camp and a fitness heroes session will be taking place in the Council hall, with street bikers ruling Triq ic-Cawsli for the day.
Special stalls with healthy food, fruits and other products, together with children's entertainment and music will be put up at the entrance hall of the Civic Centre.
Speaking about the initiative, newly-elected Mayor of Zabbar, Quinton Scerri said, "I believed from the very start that the practice of local councils engaging with citizens helps to ensure that the work implemented is in tune with citizens' needs. This new system is already showing results in Zabbar, and this HealthFest initiative is a clear example. People are truly interested in their locality and therefore we should put them in the centre of our plans."
This event is being coordinated by Mayor Quinton Scerri, Councillor Joseph Vella who is heading the Action Team and the Zabbar St. Peter's Administrative Committee.
The 2013 Zabbar HealthFest is being held on the 18th May 2013 at the Zabbar Main Playground and the Civic Centre.