Hundreds of people of all ages attended the Gozo Adventure Festival at Wied il-Mielah over Saturday 16th and Sunday 17th November.    The festival, organised by local adventure tourism company Gozo Adventures, and supported by Gharb Local Council aimed to encourage people to try a range of sports suited to the dramatic rocky landscape.
Visitors were able to try yoga and traditional games for free, whilst a ten euro pass gave unlimited access to archery, combat archery, climbing, and the more adrenalin inducing high ropes zip line and ariel runway.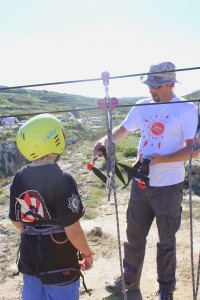 "The event has been a big success", said company founder Xavier Hancock.  "We work predominately with tourists, and so having an open event for Gozitans and Maltese was a new venture.   We particularly wanted to promote climbing, and to encourage people to challenge themselves and try new things.  The response has been amazing, with people of all generations facing their fears and finding the activities fun and wanting to go again and again".
The Hili family from Xaghra were one such group.  Having attended late on Saturday to try the archery, they came back to the festival on Sunday to try out the other options.  Dad Anthony, daughter Isabella (13) and son Gabriel (11) tried all of the activities including the zip line, zooming from the cliff top down into the valley.  "We initially came to the festival to try the archery" said Anthony, "and the other activities seemed a bit scary.  But then we watched other people fly down the ropes or pull themselves across the valley, and thought, well – if they can do it – why not us!  We all really enjoyed ourselves".  Well, perhaps not quite all.  Mum Marisa didn't take to the air, preferring to stay on the ground and take photos of the rest of the family.  "Perhaps next time" she grinned, "as it did look like it was fun".
Further information on local adventure sports can be found at www.gozoadventures.com and www.facebook.com/gozoadventurefestival?fref=ts