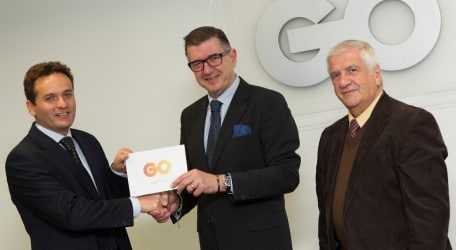 GO plc has become a corporate partner of Ghaqda Gurnalisti Sports (GhGS), the National sports journalists association, and will also sponsor the Youth of the Year category at the National Sports Awards, which will take place on 31 January 2014. The sponsorship was presented by GO's Head of Marketing, Kurt Camilleri to GhGS President, Charles Camenzuli (pictured above together with deputy secretary Henry Brincat).
Camilleri said, "As Malta's home of premium sports, GO has a very strong association with excellence across all activity which is related to sports. We are also determined to support sporting excellence in Malta and by sponsoring the Youth of the Year category at the forthcoming National Sports Awards, GO is doing just that. The Awards are undoubtedly a highlight in GhGS's calendar but sports journalists work tirelessly throughout the year to keep the public informed on how Malta's sports men and women are performing and GO will continue to support their efforts as a corporate partner throughout 2014."
This year's edition of the National Sports Award will be the 53rd and nominations in the Youth of Year category include three female athletes; the gymnast Suzanne Buttigieg, weightlifter Nichole Gatt and squash player Colette Sultana. The two other nominees are swimmer Neil Muscat and shooter Nathan Lee Xuereb.
Camenzuli said, "The Youth of the Year Award obviously highlights someone who has the potential to go on and achieve greater things in his or her sporting field. It's important that as journalists, and as a country, we support young athletes who show such potential and GO clearly appreciates this. GhGS is working hard to ensure that this year's Awards build on previous successes and to help sports journalism in general develop and strengthen. In these efforts the support of corporate partners like GO is invaluable."