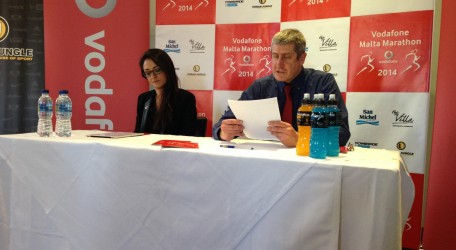 The Malta Marathon this year is being brought to you by Vodafone as the main sponsor of the event hence the Vodafone Malta Marathon.  The sponsoring of such an event is a milestone in itself for Vodafone Malta.  Indeed it is a 'first' for us and testimony to our firm belief in the values of achievement and success.  This is the embodiment of the Marathon.  Thousands from all walks of life and all ages making it to the finish line in an act of personal achievement, many doing it for a good cause.  The official charity this year is Inspire.  Runners are being urged to collect money for this charity thus adding even more value to their feat.
Any event of this size is complex in its organisation and logistical set up.  It takes months to organise the event which would not be possible without the hundreds of people that work toward its success.  This also includes a number of Official Partners which are San Michel, Powerade, Urban Jungle and The Villa.
The event is a national sporting celebration with as much activity along the route as on the route.  25 Bands will be lining the route as will the various voluntary organisations that have become a mainstay of each marathon.  The feeling of any marathon is electric.  It's a family day out and a time for coming together to celebrate the strength of the human spirit.  The finish line is particularly exciting.  Once again there will be a large crowd cheering on the 3,600 which will cross the finish line – some in better shape than others but crossing anyway.  This is the beauty of the marathon, it doesn't matter how long it takes you to cross the finish line.  The thrill of crossing is unparalleled and as emotional for those who watch it happen.
The Vodafone Malta Marathon will once again go viral this year.  Each participant can enjoy the benefits of technology whilst running.  At each step of the way our photographers are at hand and any photos taken of participants can be automatically uploaded to their Facebook page in real time.  Following the marathon has never been such fun.  Monitor your husband, your girlfriend, your dad or friend at each step of the way and keep it for posterity.
Overall, the Marathon is set to be a very special event.  Whether you choose to follow it along the route, or at the finish line or on Facebook you will no doubt feel a part of this annual event. 
Fact and Figures
Main Sponsor
Vodafone Malta
Official Partners
San Michel, Powerade, Urban Jungle, The Villa
Official Charity
Inspire Foundation
Voluntary Organisations involved
Attard Scouts, St Aloysius Scouts, B'Kara Scouts, Hamrun Scouts, Lyceum Scouts, Mosta Scouts, Marsa Scouts, Sliema Scouts, Stella Maris Scouts, St. Venera Scouts, Zebbug Scouts and Inspire Foundation provide marshals and man the San Michel, Powerade and Sponge Stations.

First Aid
St John's Ambulance and Malta Red Cross Society
Registration
Ladies Running Club
Social Media
Facebook.  Participants must register their bib number at www.vodafone.com.mt/maltamarathon. The barcode on each bib will automatically allow for the participants photos to be uploaded on their facebook page thus creating an album of their race from start to finish.

Participants
3,600 (1,500 foreign nationals)
Full Marathon
600
Half Marathon
2,100
Walkathon
900
List of best attended races in Malta
1)      MaltaMarathon

2)      Urban Jungle Mdina  Spinola Xmas Road Race (700 participants)

Maltese Participants
Full Marathon

13 females

79 males

Half Marathon & Walkathon

942 females

1,101 males

Foreign Participants
UK – 501

Germany – 201

Italy – 195

France – 99

USA – 35

Japan – 34

Others

Most dedicated Malta Marathon Runner
Charles Darmanin – the only participant that completed all 28 Malta Marathons.  This will be his 29th
Marathon Favourites
Mohammed Hajjy (Morocco) – 3 time winner

Abdelekrim Kabbouri (Morocco) – twice 2nd and once 3rd

Yassine Kabbouri (Morocco) – running his first Malta marathon

Maltese favourites
Jonathan Balzan – holds the National Best for the Marathon (finished 4th last year)

Andre Grech – finished 5th last year.

Awards
Trophies and commemorative medals will be given out as well as prize money for those who clock the best times in the Marathon.

Commemorative medals have been designed by Charles Cassar, artist.

Chip timing
Each athlete will be wearing a chip which will automatically work out the time they leave the starting line and cross the finish line and hence determine position and timing.  Athletes are asked to hand over their chip at the finish line or to a marathon official if for some reason they do not finish the race.  The chips are non-transferrable.
Safety and Ethics
Bikes, pets and children are not allowed to participate due to safety concerns.  Such participation may lead to disqualification.
Start of the Marathon
Full Marathon (42.2 Km) Mdina at 0830hrs

Half Marathon and Walkathon – 0920hrs

Walkathon participants will line up behind the Marathon runners

Finish line
Sliema Strand

Expected time of arrival of first participant – 1015hrs

Expected time of arrival of last participant – 1300hrs

Route
After leaving Rabat, the Marathon will pass by Mtarfa, Ta' Qali, Attard, Mosta, back through Ta' Qali and Attard, Mriehel by-pass, Qormi, Marsa, Blata L'Bajda, Floriana, Pieta, Msida, Ta' Xbiex, Gzira and Sliema.

The Half Marathon and Walkathon will exit Rabat earlier and will follow the same route but skip the Ta' Qali, Attard, Mosta, Ta' Qali loop.

En Route
25 bands will be performing on the route
Traffic Control and Road closures
Main areas to avoid due to closure of roads and deviation of traffic for the 2014 Vodafone Malta Marathon.

Ta' Qali and all surrounding roads          0830 to 1115

Marsa to Blata Bajda                                1000 to 1300

Attard                                                       0900 to 1130

Hamrun to Blata Bajda                             1000 to 1300

Mriehel By-pass to Marsa                         0930 to 1230

Pieta, Msida, Gzira & Sliema waterfronts                            1000 to 1330

Fun Run
2Km fun run starting at the Ferries in Sliema organised by Athletic Club Pembroke Athleta (21433452) starting at 0900hrs.  Children and parents are encouraged to participate.  Last year 500 children participated.  All those who cross the finish line will receive a medal, refreshments and a goodie bag.
MTA Assistance
The presence of many foreign runners is made possible thanks to the promotional work done by the Malta Tourism Authority and the continued support it gives the Malta Marathon. The Malta Marathon Organising Committee would also like to specially thank the Honourable Minister for Tourism for his continued support.

 
Maltese and Foreign participation over recent years:
Year    Maltese          Foreigners     Total
1994    194                  389                  583
1995    277                  473                  750
1996    239                  424                  663
1997    288                  374                  662
1998    302                  402                  704
1999    282                  433                  715
2000    316                  496                  812
2001    344                  523                  867
2002    327                  389                  716
2003    359                  374                  733
2004    439                  305                  744
2005    394                  307                  701
2006    398                  381                  779
2007    483                  399                  882
2008    407                  691                  1098
2009    490                  547                  1037
2010    774                  725                  1499
2011    1233                962                  2195
2012    1543                1014                2557
2013    1980                1236                3216
2014    2150                1550                3600