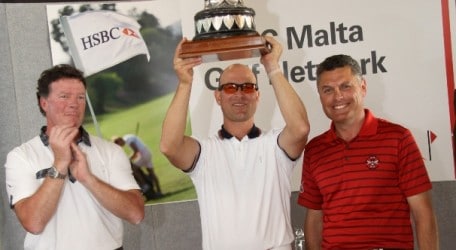 Pictured above: Andy Borg celebrating his victory together with HSBC's Chris Bond and RMGC Captain David Debono
The HSBC Scratch Challenge Cup held at the Royal Malta Golf Club (RMGC) was this year won by Andy Borg, who achieved an aggregate score of 145. He was followed closely by Paul Stoner with 146 and Quint Van Beek who placed third with an aggregate score of 148.
Winner Andy Borg was awarded two VIP tickets for a weekend at this year's open championship at Muirfield Scotland, courtesy of HSBC.
The HSBC Kinnard Centenary was won by Ivan Micallef with a net 67. After a four-way count-back, the runner-up was Joseph S. Sullivan with a net 68.
Founded in 1891, the Scratch Challenge is a prestigious golf competition based on an individual aggregate 36-hole medal played off scratch.
HSBC Malta's CEO, Mark Watkinson said that "the tournament brought out the very best that the sport has to offer: impressive talent, close competition, and the idyllic conditions that one comes to expect when playing at the RMGC."
Chris Bond, Head of Global Banking and Markets added that: "HSBC is proud to be associated with the RMGC's prestigious Scratch Challenge which dates back to 1891. We are equally proud to support the RMGCJuniorAcademy and the 125th Anniversary celebrations which will attract golfers from all over the world".