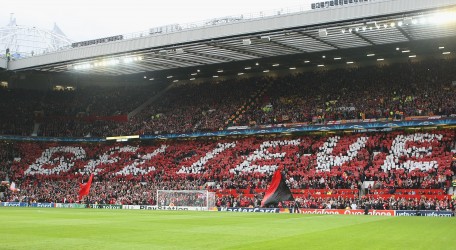 Banif clients issued with a Manchester United Credit Card until February 28th will have a chance to watch the match against Liverpool on March 16, at the iconic Old Trafford Stadium.
Current Manchester United Credit Card holders, and customers issued with the Card until February 28 will automatically participate in the prize draw. Two participants will be selected randomly through a computer generated programme. They will then be asked a simple skill question, and if answered correctly, both participants together with a guest each, will be on their way to Manchester to experience the game, probably sitting at the edge of their seats and biting their nails in the Theatre of Dreams. The prize consists of a flight for each of the two winners, and two match tickets each for them and a guest.
"Believe! Enjoy your moment of glory! That is what the Manchester United Credit Card from Banif Bank delivers!" said Nuno Martins, Chief Operating Officer at Banif Bank (Malta) plc. "Customers are made to feel part of the amazing United story at cash points around the world, with access to discounts on club membership, at the Red Café and on online shopping through United Direct. Banif is offering fantastic opportunities on a regular basis to Manchester United Card Holders, through initiatives made possibly via the agreement the Bank has with Manchester United. In fact, the first Banif client to be rewarded has come back from Old Trafford starry-eyed, as he and his guest were treated as VIPs at the Jimmy Murphy Centre and Aon Training Complex, meeting players, watching them train and play against Tottenham. For all those avid fans out there… don't miss out on these opportunities! Coupled with the financial benefits, the Card is truly a unique product to pocket!"
The Manchester United Credit Card also gives customers access to other exclusive benefits including free Travel Insurance; free Purchase Protection Insurance; Insurance & Health Scheme Discounts; VISA Global Customer Assistance Services; and 20% Manchester United Museum and Tour Discount when booked and paid one day in advance. The standard credit limit on the Manchester United Credit Card is €2,000.
The prize draw terms and conditions can be found online at www.banif.com.mt/muvsliverpool_tcs. More information about the Manchester United Credit Card from Banif Bank can be obtained by calling Customer Care on 2260 1000 or by sending an email to [email protected]. Alternatively one can visit any of the ten Banif Bank branches around Malta and Gozo. One may also wish to follow Manchester United Red Arena – Malta, on Facebook.